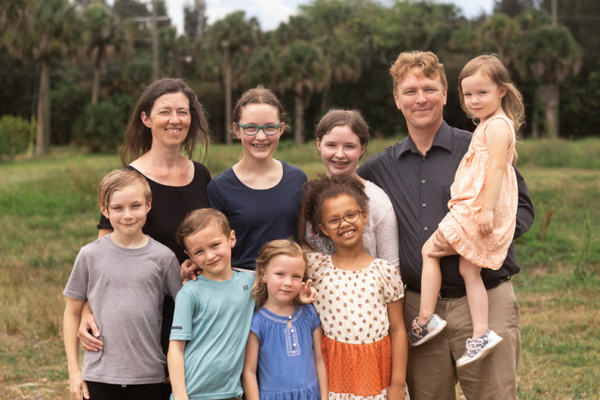 Mike and Hannah
were married in 2008. Having both been on multiple teams with Teen Missions prior to getting married, the Blairs wanted to lead a team as a married couple as soon as they had the chance. So a few months after walking down the aisle, Mike and Hannah led the team to the Lillian Trasher Orphanage in Assiut, Egypt in 2008. In 2010 they brought their first two children with them as they led a preteen team to South Africa.
In 2014 their two oldest children were able to participate in the Mustard Seed program (4-6 year-olds) with Teen Missions. They enjoyed it so much that they went back every year until they graduated into the Peanut program (7-9 year-olds) and two of their younger siblings were old enough to also go to the Mustard Seed program. In 2019 with their oldest daughter, Rachel, ready to go on her first preteen team, Mike and Hannah saw the opportunity to lead a team again - Rachel's team - and bring the whole family of now six children along. While preparing to lead that team (Honduras Preteen) they then saw the opportunity to join staff with Teen Missions. After prayerful consideration, they officially joined staff in November of 2019.
Mike has been working as an area representative, visiting churches, youth groups and schools with the goal of introducing students in the Midwest to short-term mission opportunities with TMI. During the school year, Hannah homeschools the kids in their home city of Detroit. In the summer months Mike and Hannah will continue to serve as leaders on Teen Missions summer teams.
Birthdays
Mike—November 27
Hannah—July 16
Rachel—January 9
Zipporah—February 2
Hosea—November 2
Zachariah—October 24
Tirzah—October 4
Keziah—December 28
Anniversary
Prayer Requests:
That God would open many doors for Mike to introduce students to Teen Missions.
That the Holy Spirit would give Mike the right words to use when presenting TMI opportunities to students.
That God would call many students and adults to partner with Teen Missions during the summer program and beyond.
That God will continue to open doors of ministry opportunities in our local community.
That God will enable us to teach our children wisely.