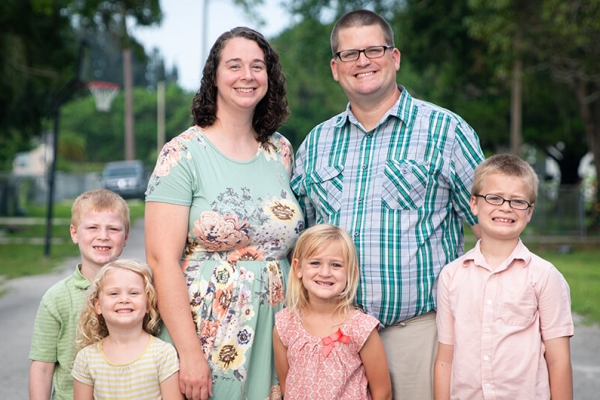 Justin and Lindsey Casper (from Ohio) met at her sister's wedding rehearsal. She was a bridesmaid; he was a groomsman. They both have always loved working with youth. While they were dating and during their early years of marriage, Justin was the youth pastor at their church, and Lindsey was the high school girl's Sunday school teacher.
Lindsey grew up in a Christian Union Church, and had heard about Teen Missions her whole life. When she was 12 years old, she heard God whisper "Africa" to her, and she fulfilled that calling in 2009 when she went on a Teen Missions adult team to Zambia. Coming home, she knew that she and Justin, would someday be full-time staff. It took many years, praying, and ultimately a job loss, for Justin to realize that God was calling him into the ministry as well. They joined staff in 2018.
Justin is working in the Land Crew/Maintenance Department at the Florida base. Teen Missions owns around 220 acres, so there is always a lot of mowing, weedeating and landscaping that needs to be done. He also helps with maintenance and construction. Lindsey is currently homeschooling their four children: Noah, Levi, Rebecca and Shiloh.
Birthdays
Justin–September 24
Lindsey–July 18
Noah–May 16
Levi–January 11
Rebecca–July 2
Shiloh–March 2
Anniversary
October 18, 2008
Prayer Requests
New and continual financial support
Good health
Our children to love and understand what we're doing here as missionaries