Francisco & Kathy Chicas Varela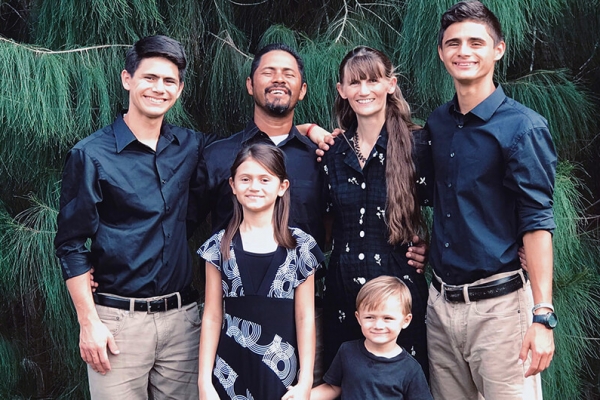 Francisco (Chico) was born in Tegucigalpa, Honduras. He accepted Jesus Christ as Lord and Savior while on his first Teen Missions team in Honduras in 1990! Five years later, he obeyed God's call to return to Teen Missions to attend the Honduras BIBLE, MISSIONARY & WORK (BMW) Training Center.
Kathy was born in Oregon and accepted Jesus Christ as her Lord and Savior when she was about five years old. She went on a Teen Missions team to Malawi in 1991 and returned two years later to attend the BMW in Florida. Kathy was serving her internship in Honduras when she met Chico. They were married a year later in 1998. They served on the staff of Teen Missions in Honduras for the next three years and were blessed to be a part of training Honduran youth to serve the Lord full time.
All four of their children were born in Honduras. Daniel (1999) is currently studying medicine at Pensacola Christian College with the goal of becoming a missionary doctor. Samuel (2001) has been very involved with the Teen Missions ministry in Honduras and is currently praying about how to best prepare for ministry in the future. Abigail Grace (2009) has big dreams for her future, but in the meantime, she keeps busy with schoolwork, art, singing, and playing with her younger brother. Joel (2015) is a very creative, active, and funny little boy who loves learning and playing with his siblings.
The Chicas family moved to Oregon in 2002, where they lived for five years. During that time, Chico was granted U.S. permanent residency and he served as a volunteer leader with Young Life.
While praying about where to serve on the mission field, the door opened to return to Teen Missions. In 2007, God brought them back to work at the Teen Missions base and Bible school in Honduras where they coordinated the BMW program until 2019. Chico was very happy to be teaching classes, overseeing the work projects, and promoting missions in Central America. In 2019 the family made a temporary move to Florida where they continue working with Teen Missions while waiting for Chico to acquire U.S. citizenship. The plan is to return to Honduras where they love having the opportunity to train Christians to be people of integrity so they can make a difference in the world!
Birthdays
Chico – December 12
Kathy – November 23
Daniel – January 21
Samuel – April 29
Abigail – February 15
Joel – August 3
Anniversary

Prayer Requests
For the staff and students at both bases in Honduras, that they would live pleasing to God
For wisdom as we raise our younger children
For our older children as they seek God's will in their future
For continued good health
Encouragement and strength as we strive to draw closer to God
That ye may be blameless and harmless, the sons of God, without rebuke, in the midst of a crooked and perverse nation, among whom ye shine as lights in the world;
—Philippians 2:15