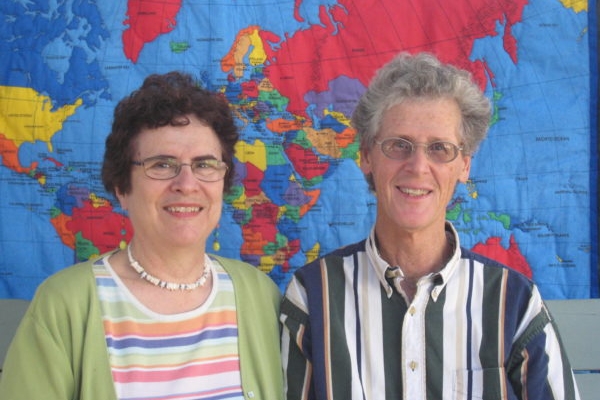 Bob and Paula have been on Teen Missions staff for 30+ years. God originally called them to serve Him in the 80's. Bob, working with the US Forest Service as a timber cruiser and fire fighter, then spent a short time with a ministry in Baja California, Mexico before coming to Teen Missions in 1989. Paula married into it, leaving her job as a dietitian to come to TMI in 1990.
Bob enjoys working with the younger missionaries. He was "Scripture Sam" for the Peanut program since its inception and has led numerous Peanut and Preteen Teams. The rest of the year, Bob works behind the scenes in the Literature Warehouse preparing literature for both the U.S. Teams and Overseas Boot Camps. In his free time, Bob enjoys singing in several choirs and collecting coins and stamps, especially from many of the counties he's visited. He also volunteers at a local feeding ministry when time permits.
Paula joins her husband in leading Preteen Teams. Most of her years with Teen Missions have been spent in the Finance Department, most recently managing the investment program that finances our overseas bases. Free time finds her working in the house or yard on various projects, sewing or reading. When not on a summer team, she is quite involved in their local church, serving on different committees and leading Bible studies.
Birthdays
Bob – December 17
Paula – April 27
Anniversary
Prayer Requests
For good health
That God would be in the middle of all that we do