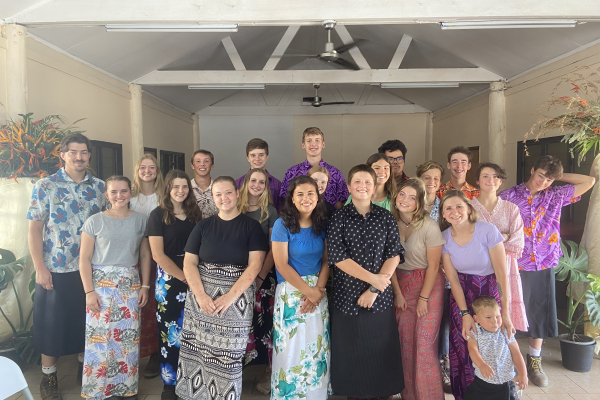 Brandon & Maddi Metzler Newsletter (Fall 2022)
Greetings! We are excited to share with you what all has happened these past few months. There is so much to share that I'm just going to jump right on in!
Boot Camp:
All year long we anticipate, wait, and pray for the day when we can finally meet our team in June. This year, we had the privilege of having 17 team members to take with us to our project in Fiji. With the oldest only being 17, they were a young and energetic crew! We also had the unique experience of leading with one of our former team members to Kenya back in 2019. We were so thankful for our assistant leader, Emily, and it was a joy to watch her transformation from team member to leader unfold! Boot Camp was a wild ride! Running the Obstacle Course, learning construction skills, taking evangelism classes, and the general nature of the primitive lifestyle is always challenging, but so worth the results! And, as it always happens, by the end of our time at Boot Camp, we were truly like a family. Our staff responsibilities during Boot Camp kept us from being with our team as much as we would have liked, but we both enjoyed helping run the program and getting to know all of the teams. Brandon served as Mr. Special Blessing, as well as in the shop working on the buses. I was the Drama teacher, teaching 3-4 evangelistic skits to all of the teams. We both had the immense privilege of serving on the worship team at the evening rallies.
Fiji:
In Fiji, we tackled the project of continuing construction on a fence for a camp that was an extension of the ministry of a local church. We also painted a dorm and many bunk beds for the camp. Though the painting project had its own sets of challenges, the fence definitely posed the most difficult obstacles to overcome. The property line ran through the side of a hill, with trees and rocks in the path. Plans for our footer changed 2-3 times, but the kids stuck with it, working hard at whatever they were asked to do. After clearing the ground, digging a footer with a step, and preparing rebar, next was to mix and pour concrete. We spent day after day after day mixing and pouring concrete for the footer. Our kids took turns on "mixing teams," making a competition of who could mix a batch the fastest or who could mix the most batches in a day. I have never seen a team work at the same thing every day with such joy and energy. This generation of young believers has a zeal for the Lord and determination that is so inspiring to be a part of! Once all the concrete was set, we laid blocks, set poles, welded poles, strung wire, and hung the fencing. We were able to add about 60 ft of fence by the time it was all said and done.
For our evangelism opportunities, we were able to present in a local school, village, and two churches. For all of our kids but one, it was their first experience presenting the Gospel in a setting like this. They boldly proclaimed, using the tools they were equipped with at Boot Camp, and interacted well with the locals. They all unanimously agreed that our outreach days were the highlights of their summer.
I ran the kitchen, planning and preparing meals, while Brandon ran the worksite, planning and delegating jobs. Our daily schedule was busy, but we both agree that this was the smoothest summer we have ever had with Teen Missions. Yes, there were cockroaches everywhere and certainly there were some hiccups, but by the grace of God, we had no major illnesses, really good kids, a perfectly happy toddler, beautiful weather, a great leadership team, and a gorgeous country. My verse for the summer was "Be still and know that I am God" (Psalm 46:10a). This summer, God used the "smoothness" of the trip to have my full attention on Him. My distractions were limited and it was such a precious time for me of growing, strengthening, reflecting, confessing, and being in awe of our awesome God.
Life in General:
We have been able to get more involved in our church, Trinity Community Church, which has been a big blessing. Brandon serves on the security team and I have been all over in the classrooms for Kids Church. We both recently started serving on the worship team as well. We have been enjoying our community group, learning to apply the Scriptures to our daily lives with a group of believers that challenge us, edify us, and love on us. We have an upcoming marriage retreat with the church that we are very much looking forward to and I am continuing to participate in the women's Bible studies as they come up. We are currently working through Genesis 1-11. This church has played a huge role in the strengthening and growing of our faith!
Brandon has been continuing to fish wherever there is water and Darrell is following suit! He is growing up so quickly and proving to be an adventurer, comedian, sweet cuddle bug, and lover of anything on wheels! While on deputation in August, Brandon and I became officially dive certified. A family friend, who is an instructor, invested in us in this way, and we are so grateful! Our God has made a beautiful world for us to enjoy! There isn't much else to update on outside of Teen Missions, as these past few months have been our busy season with the ministry!
Staff Life:
If you were able to attend our ministry update supper in August, we shared that our commitment with Teen Missions is fulfilled this December and that we will not be renewing it. This has been such a hard decision that we are still processing through, but we feel a peace about the fact that God is directing us elsewhere. So from now until December, we are determined to finish strong and fully invest ourselves in the ministry. Brandon is working hard in the outdoor Maintenance Department as the only mechanic on hand. I continue to go in as I can (about 2-3 mornings a week) to work in the Video Department. We are currently working on summer testimony videos, but I am also working on some promotions for the ministry as well. The senior students I had the honor of teaching in the Bible school graduated right before Boot Camp, and I was able to attend their "senior skip day" with them. We went to Gatorland and I got to sit on a gator. Yeehaw!
We recently had a few days of fellowship with the rest of the staff at a staff retreat in Bradenton, Florida. It was a refreshing time to learn about what the ministry has been doing and what is in store for the future. Brandon and I were blessed to lead the worship times during this event. This staff family is so dear to us and we will miss them all very much! There are exciting things in store for Teen Missions coming up and it makes me disappointed to not be a part of it. Of course, Teen Missions will always play a part in our lives in some sort of fashion. This ministry has impacted us since we were teens and it holds a special place in our hearts. We want to continue to be involved in its work as much as we can even though our season on staff is coming to an end.
Thank you:
Thank you for your faithful support that has allowed us to follow the Lord's directing here and serve on staff for these past few years. What a journey it has been! We have learned and grown so much and it's all because of faithful supporters who made it possible. Not only has your support impacted our family, but it has impacted the work of the Lord all around the world! Teen Missions is running 30+ bases spread out across five continents that are also running Boot Camp programs, as well as other ministries (Bible schools, Rescue Units, Matron Units, Sunday schools, etc.) to serve the needs of their country and spread the Gospel. You have been a part of it all. Thank you.
In Christ,
The Metzlers
Colossians 3:23