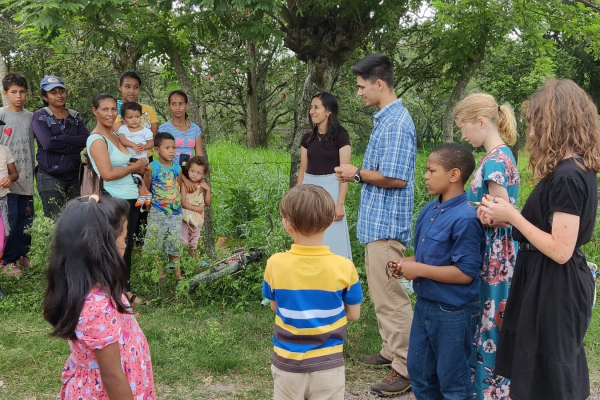 Chico & Kathy Chicas Newsletter (Fall 2022)
Dear friends,
As we write this, Honduras is recovering from major flooding in the low-lying areas and landslides in many higher areas from two back-to-back storms. It rained nonstop for several days and the land wasn't able to deal with all the water. Since the poorest people live in the areas where land is cheapest, they are the ones who suffer the most during the heavy rains. It is such a clear example of Matthew 7:24-27. Jesus tells us that just as houses built on sand will be ruined during the storms and houses built on the rock stand firm, our lives need to be built on the Rock, Jesus, so that we can stand firm through the difficulties of life. We can rejoice that God is our Rock, and He has been faithful to us. We were praying that God would help all these people - literally hundreds of families' houses fell in a landslide or were up to the roof in water. Then, we decided that we could do something! So, as a ministry, we bought some food and water, prepared the food, gathered clothes and blankets, and contacted people we know who live in some of the most affected areas - and then - went and delivered it! It was such a blessing to be able to help people's immediate needs - and pray that those people will be drawn to the Lord, or closer to Him, as a result. Because of a previous donation, we were able to put a New Testament in each bag that we gave out! You can join us in praying that those New Testaments will be read by people who need God's Word!
This past summer, even though we didn't lead a team, we were able to spend some time at Teen Missions in Florida before heading back to Honduras. During Boot Camp, Chico taught one of the construction classes and was honored to give the message in one of the evening rallies. Our sons both led teams: Daniel led the pre-teen team to Honduras and Samuel led a teen team to India. Daniel also gave the message in one of the pre-teen rallies. What a blessing that God is using both of them in His service. Thank you to those who were praying for them. Although there were difficulties and challenges, God helped them through, and we believe many lives were impacted positively as a result. Back in Honduras, Chico and I were the missionaries for the two teams that came to Honduras, one teen and one pre-teen. That means we were the ones who coordinated the work projects and the evangelistic opportunities, helped with transportation and shopping, made sure the water was working and a whole host of other things! It was a blessing to get to know the kids and leaders on these teams and hopefully make an impact for eternity in their lives as they did for others while they were here.
In August, after the teams had returned to the U.S., the staff here began going to different areas in Honduras on the weekends to share about missions and about the opportunities available with Teen Missions. It has been a good experience as we have heard people say that they had been wanting to get involved in missions but didn't know how! Please pray with us that people will be obedient to God's calling - whether it be to come on a team with us, or in some other way.
We are excited to share that we have new staff at the Santa Cruz base! God brought one family and one single girl to join Chico, myself, and Dunia. We praise God because these are very talented people who are using their gifts to help make Teen Missions in Honduras a better ministry! The single girl, Cecilia, majored in languages in college and besides helping with everything around the base, she has taken on the new role of Promotions. So, she makes contacts where later one or more of us will go to share about the ministry. The other new staff is Benjamin and Ana Calderon-- actually, they are not new! They were Teen Missions staff for two years with us before being sent to coordinate the ministry of Teen Missions in Ecuador, where they served for six years. We are blessed to have their family back with us. Benjamin is tech savvy so, along with the many other ways he helps, he has also already put together a website for Teen Missions in Spanish! Ana has taken on the responsibility of the kitchen where she lovingly and diligently keeps things running, and she also decided to try to get the chicken business up and running again! So, we now have 3 roosters, 12 chickens, and 9 baby chicks!
Dunia has been able to help teach a special class in two elementary schools in San Isidro this year-- one public school and one private school. It is called Values class. There are 12 volunteer teachers from the local churches who go for one hour each week so they can teach in grades 1-6 in both schools at the same time. Each week has a value - say, "Responsibility" for example, and the children are taught reasons why the values are important and how they can have that value in their life. They always make sure to incorporate Bible verses and the gospel message in each class. Cecilia and Benjamin recently joined Dunia, so the three of them are going together now. It is such a joy and reward to hear that 36 children have accepted the free gift of salvation by placing their faith in Jesus as a result of the teaching of these classes! It is also a blessing to hear the teachers saying how thankful they are for these classes because they notice such a difference in their students when they are receiving the classes than when they were not! Praise the Lord for this!
In closing, we would like to share a story with you that gives a small idea of the impact that you help make possible with your prayers and support to keep Teen Missions in Honduras going. In the 2018-2019 Boot Camp, we had a team member named Milgia. It was during Boot Camp that she received Christ as her Savior. After the team was over and she went home, she went on to college and graduated. Her family lived on a farm and her mother gave her a cow as a gift. Milgia said when her cow had her first baby, she would give it to Teen Missions because her time here had transformed her life forever. And that is how Teen Missions got "Bessy!" We pray that she may be the first of many cows who will provide fresh milk for staff and students alike.
Thank you so much for your prayers for our family. Abi and Joel are both homeschooling this year and we are praying for the Lord's guidance for the future. May we be sensitive and obedient to God's leading and may His will be done. We pray for you as well, that God will bless you and give you wisdom for all of life's decisions.
Love in Christ,
Chico, Kathy, Daniel, Samuel, Abi and Joel