Linda Evans Newsletter (Winter 2021)
Dear Family, Friends, & Former Team Members,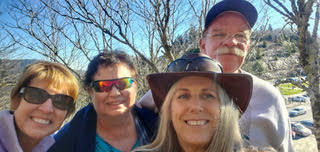 It's a new year, and I think a good theme for the year would be Philippians 4:4-8 (go look it up!), with a special emphasis on verse 8, "Finally, brethren, whatever things are true, whatever things are noble, whatever things are just, whatever things are pure, whatever things are lovely, whatever things are of good report, if there is any virtue and if there is anything praiseworthy – meditate on these things."
The Past
My roommate, Alexandria, FINALLY made it to Honduras to serve her internship at one of our bases there. Two back-to-back hurricanes, four flight cancellations, and a reroute to a different airport, and she finally made it on November 30th. That means I am living alone again, so I have TWO spare rooms for company! (Hint, hint!)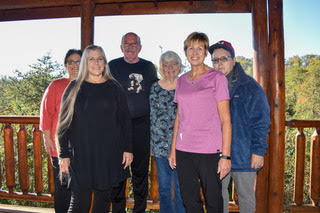 I had a fun trip to the Smoky Mountains the first week of November. I met up with friends from Cincinnati and we shared a beautiful cabin in the mountains enjoying each other's company, amazing scenery, and some great hiking trails. I spent Thanksgiving, my birthday, and Christmas in Tampa and was able to visit with a few friends while there. My friend's new wife and I share the same birthday, and another friend's son had a birthday the day before, so we had a fun combo party together!
Even though we couldn't do the summer mission trips, I actually got to do quite a bit of traveling in 2020! With a few extra precautions, attention to ever-changing mandates, and careful planning, I was able to safely enjoy an almost normal year, and have remained COVID free! With many suffering job losses, a lot of ministries have seen a dip in financial support, and I was prepared for that possibility. I have been praying for each of you who support me, that God would bless you through these times, and He has been faithful to you AND me! I have actually picked up several new monthly donors. THANK YOU SO MUCH! My support level has increased from 60% to 75% of target. My car fund campaign is ongoing and I hope to find my new horseless carriage sometime this year, for my next round of travels!
The Present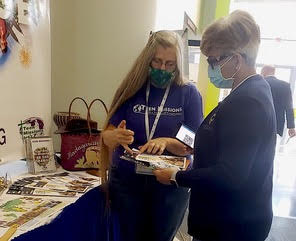 My work in the Promotion Department is really ramping up! Not only is this normally a busier season, we have lost several people from our department. I am learning a LOT of new things I didn't handle before! Here's a short list of some of my responsibilities: oversee and handle various advertising opportunities (websites, print ads, radio, etc.), book/attend events (speak in chapel at Christian schools, attend booths at homeschool conventions, etc.), give visitors tours of our display room, share about TMI with retreat groups here, promote our annual Mud Run in various forms, manage promotional supplies, and more! Additionally, I am still involved in handling some of
the selling of items we no longer need. In December, I was tasked with reaching out to local churches to help fill a shipping container to send to Honduras with hurricane-relief supplies. It should be arriving soon.
I get to be a "staff encourager" to one of our students who has just entered her internship and is serving here in Florida. We had fun at the zoo on our first outing to get to know one another better. I'm also getting to know people at church better and getting more involved. I got to be part of three back-to-back Christmas parties—adults, children, and youth! My church is very small, but they have all their priorities in order! Groups go out twice a week to share the Gospel in the community, and we have a bus ministry. There is a real passion for reaching the lost! I love that it is only two minutes away from home, which also means some of the church members live right in my neighborhood. They are on me to join the new choir, so that's probably coming soon, too.
My weight had the usual up and down over Thanksgiving and Christmas, so net change is zero, but I am finally getting regular again on my treadmill in the mornings. I managed over 50 miles on it in 2020, so I'm aiming at 100 in 2021. Regardless of what the scale says, my joints and the rest of me feel better when I get that exercise! Keep praying!!! I keep my prayer list on my treadmill, so let me know how I can be praying for you.
The Future
There are a lot of unknowns about the upcoming summer trips. We are planning teams, but will be ready to bob and weave as needed. We already have 300 registrations! I am not assigned to a particular team yet. Our Mud Run is May 8th, so come on over and join us if you can (remember, I have two spare rooms if anyone wants to stay overnight).
Blessed to Serve Him,
Current Support Level = 75% of target
Thank you for making it possible for me to serve in full-time missions.
Did you know that you can set up a one-time or recurring donation electronically? The new Teen Missions website makes it easier than ever. You can even set up a login now to track your giving.
Here is the direct link to donate specifically for me:
https://teenmissions.org/missionary/levans.