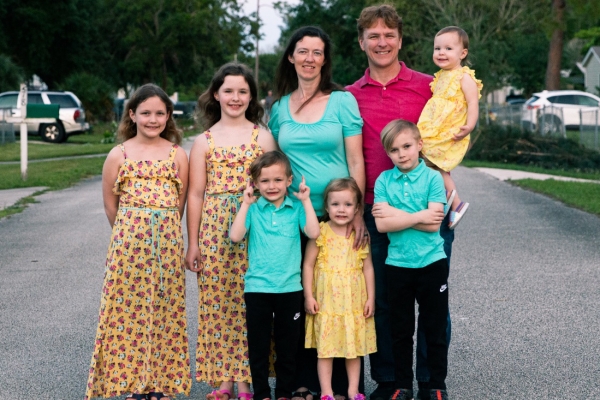 Mike and Hannah Blair Newsletter (Fall 2021)
"But even if I am being poured out like a drink offering on the sacrifice and service coming from your faith, I am glad and rejoice with all of you. So you too should be glad and rejoice with me."

-Philippians 2:17-18


Hello Ministry Partners,
We have been encouraged by your faithful support over the last few months. Your willingness to invest in God's kingdom through our ministry has allowed many students to hear about opportunities to serve Jesus all around the world. As we mentioned in our spring update, we had planned to lead the Teen Missions team to Ecuador this past summer. As it turned out, Hannah and our kids had to stay in Florida due to two of our kids testing positive for Covid the day that we were supposed to leave for the airport. Though neither of them showed any symptoms, the country of Ecuador will not allow people to enter unless they can show proof of a recent negative Covid test. And since we did not have the opportunity to get the two kids tested again, Hannah and all of our kids stayed in Florida while me (Mike) and the rest of the team left for Ecuador.
Though this was a difficult separation for our family, God was able to use the team to minister in Ecuador in a meaningful and effective way. With four leaders and nineteen team members, the team was able to work alongside a local, Bible-believing church at a camp located near the small fishing town of Puerto Cayo. At this camp, the team was able to engage in some significant property improvements. Projects included planting a soccer field, mixing and pouring concrete for a kitchen floor, relocating a grove of banana trees and taking down some pavilions which were no longer in use. The church which hosted us is planning on using this camp for future ministry, primarily among the youth of their area.
Our team was also able to actively evangelize on a number of occasions. Our host church facilitated a number of kids' clubs throughout the week, and they invited us to come and share through singing, puppets and drama that the team had learned during our Boot Camp training. We were also able to share the Gospel during our presentations, letting these students (mostly pre-k to 8th grade) know that God loves them so much that He sent His one and only son, Jesus to die on the cross and pay for their sins. At one of these meetings, we saw 30-40 students raise their hands and pray to receive salvation from Jesus when the invitation was given.
The nineteen student team members had a good summer, with a number of students believing that God is calling them into some sort of Christian work in the future.
Since the start of the school year, I have been involved in my work as the midwest representative for Teen Missions. I have been speaking at school chapels and talking to students about opportunities to serve Jesus on one of our mission teams in the summer of 2022. The response from the students has been encouraging so far, and I look forward to continue speaking at chapels and youth groups throughout the midwest for the rest of the semester.
Hannah has begun the homeschool semester, and along with our own six children, she has invited one of our boy's friends/neighbor to join them during their daily school routine.
On Monday evenings our whole family is involved in an interdenominational ministry in the city of Dearborn, MI called Kids Life. Hosted at a local church, children of immigrant and refugee families are invited to come and receive help with their school work. Currently all of the families involved are Muslim, with a number of them recently arriving from Syria. Along with helping these students with their education, our family is building relationships with these students and their families in order to share the Gospel with them as well.
Here are some prayer requests that we would like to put forth for the coming semester:
1. Pray that this semester of homeschool will go well.
2. Pray that the students who Mike talks to will be receptive to God's leading when they are introduced to Teen Missions.
3. Pray that God will continue to give us wisdom in raising our children in the knowledge of the Lord.
In Jesus,

Mike, Hannah and all the kids