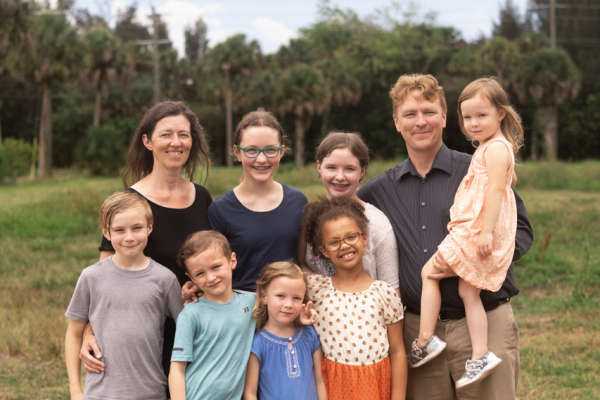 Mike and Hannah Blair Newsletter (Fall 2022)
Hello to our Friends, Family and Ministry Partners,
As you know, we had the opportunity to lead a team of 24 high school students (with two other adult leaders) on a mission trip to Iceland this past summer. With its modern infrastructure, clean water and relatively high standard of living, Iceland may not sound like the most exotic destination for a mission trip. But when you find out that most of the population has never received salvation from Jesus, it becomes clear that Iceland is indeed in need of laborers for God's Kingdom.
After our team met and trained in Florida for two weeks, we were able to travel to Iceland where we were greeted by our hosts. They took wonderful care of our team, providing us with comfortable lodging and efficient kitchen accommodations for the entire five weeks that we were there.
We were hosted at a camp owned by the Pentecostal Church in Iceland. Though the membership in this network of churches is small compared to the general population (approx 2,000-3,000 members in a country of almost 350,000), they are praying that God will bring spiritual revival to their nation. Our project began the second morning of our arrival. The primary goal was to prepare the camp and conference center for an annual worship and discipleship gathering called Kotmot (pronounced cote-mote, literally translated as "river meeting", in reference to the river that runs through the property). Since COVID restrictions had prevented the conference from taking place the past two years, this was the first time that the church was able to host this event since 2019.
Team members were involved in projects such as fixing the fence around the property, putting up drywall in the conference building, making general improvements to the property grounds and helping to organize and move various items in preparation for Kotmot.
We are happy to tell you that we had a hardworking team. They enjoyed working 6-7 hours a day in the cool climate of the Icelandic summer (average daytime temp was around 60 degrees F). Even two of our younger kids, Zach and Tirzah, went to work with the team on a number of afternoons. Zipporah (our second oldest) was a big help with the kitchen duties. She consistently helped with the preparation and serving of meals for the team. She even made an apple cake (all by herself) for the entire team on a number of occasions.
During our last weekend in Iceland, our team was able to participate in the first three days of the 4- day worship and discipleship conference. Helping with the kids program, cleaning the bathrooms (multiple times a day), and being available to set up/take down chairs for different events were some of our responsibilities during that time. The organizers of the conference were so encouraged by our work that they invited the entire team onto the main stage just to tell us thank you.
The conference itself was a spiritually encouraging event. The worship music was anointed, and there was an atmosphere of openness to the Lord among the people who were in attendance. Our entire team was very grateful to experience and participate in Kotmot; we couldn't think of a better way to end our time there this past summer.
Our oldest daughter (Rachel, 13) and oldest son (Hosea, 10) went on mission trips of their own this summer. Rachel was able to serve the Lord in South Africa and Hosea was able to serve Jesus in Honduras. Both of them also had wonderful times with their teams. They each came back testifying that God used them in a fruitful and encouraging way this summer.
With the school year starting in early Sept, our family has been able to transition into our Michigan routine. Hannah has started another year of homeschool, and I (Mike) have been speaking at school chapels and youth groups all over the midwest, encouraging students to respond to the call of God in their lives.
Here are some prayer requests for the upcoming season:
Please pray that God will give us a fruitful ministry this school year. Join with us in asking God to raise up many student missionaries who will be willing to register on Teen Missions teams for the summer of '23.
Please pray that God will continue to provide Hannah with the grace and strength to maintain our homeschool routine. Pray that Hannah and our kids will experience the joy of the Lord in their daily schedule.
Please pray with us for our children: Rachel (13), Zipporah (12), Hosea (almost 11), Zachariah (almost 9), Amelia (8), Tirzah (7) and Kezia (4).

Pray that they will continue to grow in their faith in God and in their relationship with Jesus.
Once again, we want to thank you for being willing to invest in God's Kingdom through us. We pray that God will bless you in this life and the next on account of your faithfulness.
In Jesus,
Mike, Hannah and all the kids