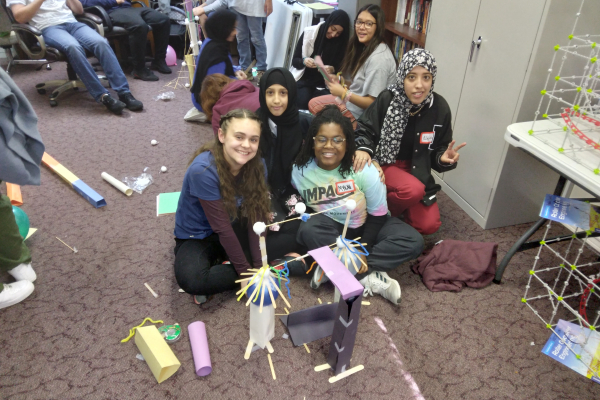 Mike and Hannah Blair Newsletter (Spring 2023)
Hello Dear Ministry Partners,
Hello Ministry Partners, We thank God for your faithful investment in our ministry these past few months. Over the course of this school year I (Mike) have been able to speak at 70+ school chapels and youth groups and challenge 8,000+ students to be obedient to God and to seek His direction for their lives. Using the passage from Acts 8:26-40, I have been highlighting three ways that God uses our obedience to Him.
When Philip first received instruction from an angel of the Lord, he did not have a lot of detail about the mission that God was sending him on. He was only told to "go south to the road, the desert road that goes down from Jerusalem to Gaza". He was not told what he would be doing there, or whom he would meet. Yet his obedience to this simple (yet seemingly random) command led him to an opportunity to meet a man who was desperately seeking God. God took Philip's obedience and used it to (1) direct him (2) equip him and (3) bring about results.
As Philip obeyed God, it became obvious that there was nothing random about what God was asking him to do. God led him to a man who was ready to hear the Gospel (direction). God had prepared Philip for the opportunity to explain the passage from Isaiah (equip). And then God brought about a transformation in the man's life (results). It has been a privilege to encourage students to ask themselves, "What has God asked me to be obedient to?" And then to tell them that God can do the same thing with their obedience that he did with Philip's.
In March Hannah and I hosted a team of 15 students (and three other leaders) for a spring break mission trip in Dearborn and Detroit. The team was able to minister to 6th-12th grade students from a Middle Eastern refugee background. Along with participating in elective classes and fun educational activities, the team was able to sit next to the students as they heard a different story from the life of Jesus every day. One of our team members, a young lady named Madelyn, has been able to keep in contact with one of the students who came to the program. This student, who's name is Nahlah, recently asked her for a Bible. This is an exciting development, and we are praying that God will continue to open the door for the Gospel.
This summer Hannah and I are planning to return to Iceland with a team of 20 students and three other leaders. Like last year, we are planning to help a network of Bible believing churches get their property and facility prepared for their annual worship and discipleship conference.
A little about the spiritual background of Iceland: Though the Gospel first came to Iceland a thousand years ago, sometime in the last few centuries the national church stopped preaching the simple yet powerful message of faith in Jesus alone for salvation. As a result, most of the population in this country (probably 80%-90%) identify themselves as Christians, yet do not understand what it means to be born again. However, the churches that we are planning to serve are praying to see spiritual revival come to their nation. This annual conference has proven to be a source of great encouragement for their members, helping them to persevere in their faith through the year. Teen Missions has sent a number of teams to work with these churches over the last 20-25 years, and God has established an encouraging partnership as a result.
Along with assisting the church, we are planning on engaging in a number of evangelistic opportunities. Team members will be trained to use puppets, drama, singing and personal testimonies to proclaim the Good News of Jesus in public settings such as parks and outdoor marketplaces.
Our oldest daughter (Rachel) will be joining us as a team member in Iceland, while our second oldest (Zipporah) and our oldest son (Hosea) are planning on serving with teams to Brazil and Guatemala respectively. Our four younger kids will be accompanying us to Iceland, as they are not yet old enough to be team members.
Itinerary for our summer routine:
May 25—leave for Florida
May 30-June18—Work at TMI headquarters in Merritt Island, FL, preparing for summer program
June 19—Team members arrive for training
June 20-July 2—Team training for ministry in Iceland
July 2—Leave for Iceland
July 4-30— Team ministers in Iceland
July 31—Return to Florida
Aug 1-4—Team Debriefs at TMI headquarters
Aug 7—Return to Michigan
Here are some prayer requests that we invite you to lift up with us:
-Pray that God will bring unity to our team as we train together for our ministry in Iceland.
-Pray that God will prepare the hearts of the people whom we will minister to while we serve in Iceland, Brazil and Guatemala.
-Pray that God will watch over our property and animals while we are gone this summer.