Fifaliana & Jessica Rakotovao (Wiggins)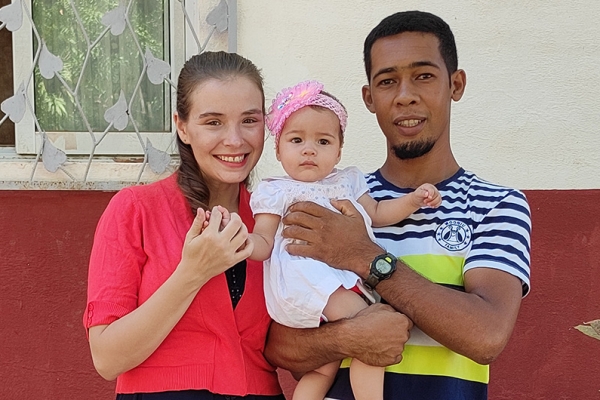 Fifaliana and Jessica are missionaries with Teen Missions International in Vangaindrano Madagascar. They both met and worked together on their internships in Mahajanga, Madagascar. Fifaliana is in charge of the Teen Missions BIBLE, MISSIONARY & WORK (BMW) Training Center students and doing the reports of the base. He immensly enjoys teaching them God's Word. Fifa was interested in the Bible school when his cousin told him about it in 2013. He joined Teen Missions Boot Camp in 2014 and joined the BMW later that year in Mahajanga. He felt God calling him to full-time missions during his training, even though he was thinking to just increase his knowledge of the English language. During his internship he was a Circuit Rider ministering to eight different Sunday Schools with more than 100 kids. He felt like God designed him for such a purpose—to teach God's Truth and Word, disciple the next generations and minister to those less fortunate than him.
Jessica is in charge of the work at the kitchen, planning and buying all of the food, as well as helping Fifa do the reports. She loves teaching Bible classes at the college! Jessica went on her first missions trip in 2012 to Borneo, Indonesia and went the following year to Peru. In 2014 she applied to BMW in Florida. She felt God calling her into full-time missions during her internship in Madagascar. She was blessed to see God using her skills, her love for people, her firm belief in discipleship and sharing the Gospel and love of God wherever she goes to fully minister to the Malagasy people. They got married in December, 2019 and went straight into serving the Lord at Teen Missions Madagascar's south base.


Birthdays
Fifaliana—June 19

Jessica—April 17


Anniversary

Prayer Requests:
That God would continue to mold and shape their hearts to be what the other needs, so they can serve God and the Malagasy people to their highest capabilities and with their whole hearts, minds, souls, and strength!!!

That they would be open to changing and adapting to each other and their different cultures; as well as that Jessica would continue to grow in her love for the Malagasy people and knowledge of their language and that both of them would be beneficial to the ministry of TMI over there!

That they would continue to be open to and to obey the Holy Spirit's leading in their lives and that they would be a strong and united front for the Gospel of Jesus Christ!