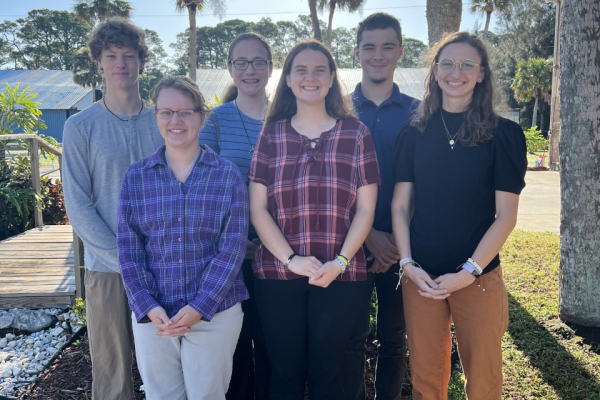 Emily Brumbelow Newsletter (Spring 2023)
Hello Everyone!
Happenings as of late (Bible School):
Since my last letter there's been a lot going on! The winter term for the Bible school wrapped up at the end of March. I loved teaching this past term and I'm definitely missing it. I taught Ethics and it was a good and encouraging experience. I loved spending this extra time with the students and seeing them grow and learn was a lot of fun.
They started their spring term of school and it has been going very well. It will finish on June 9th before our summer program begins. I'm looking forward to the graduation service for our one commissioning student and three fully graduated interns. I'm so proud of each of them and their incredibly hard work to get to this point! Praise the Lord.
As mentioned in my last letter, I have been working on a school ID number for Sojourner, so we can more easily receive international students. Though some progress has been made, we are still waiting. Please continue praying that we will receive approval for this from the government and that we can get our two international students over here for the fall term (beginning on September 11th). We have two girls accepted, one from Mongolia and one from Iceland.
As of now, we have seven new students accepted for the fall term! Which is so exciting. In total, we will have twelve for the fall. We are praying for more to apply and be accepted, so we will see what the Lord will do!
I plan to teach again in the fall, which I'm looking forward to. I appreciate your prayers as I prepare for this course!
Something fun I had the chance to do was take our seniors (one student and one intern) on a senior skip day along with one other staff lady. We had a blast surprising them! We went to grab coffee and have devotions on the beach. After a delicious brunch we drove them to Orlando to an aquarium where we got to see lots of fun sea life. After this, we went to a national park called Orlando Wetlands where we got to walk across a large boardwalk through the swamps! Super cool and so beautiful. At the end of the day we enjoyed a lovely dinner prepared by the Kostners! It was such a good day. I am so proud of these two and their accomplishments.
Comings and Goings (travel):
In February, Miss. Pat (a fellow staff lady) and I traveled to Africa for around three weeks. What a journey it was! We started out in South Africa, visiting Teen Missions' base there. It was so awesome to see the work ongoing there and to spend time with the staff and students. This was my first time in the country of South Africa, so it was cool to experience another country and culture. We had the opportunity to travel around and see the different ministries there, such as Sunday School circuits, ladies' Bible studies, and more. We were also thankful to the Base Coordinators for taking us on a fun lunch where we were able to see some local wildlife! This was my first time seeing zebras in the wild and it was so fun.
After this we made our way to Zambia. This was my second time in Zambia, but my first time to the Teen Missions' base. Previously I had only done some sightseeing in the southern portion, so it was cool to be up north and see the differences. Zambia is one of the largest bases/works TMI has, so it was a sight to behold! They were having their annual Refresher so the staff from all over the country made their way to the main base for classes and encouragement. One of the jobs I was tasked with was getting pictures of all our staff, students, interns, properties, and more. This was a JOB! But it was so fun because it meant I got to meet and talk with all the staff and that was a blessing to me.
After Zambia, we made our way to Malawi. This was also my second time in Malawi, and it was fun to be back there after seven years. The ministries there have grown a lot and it was encouraging to see. Malawi was also having a Refresher, so the staff had made their way to the central base for classes and encouragement. Once again I busied myself with lots of pictures and some videos. Malawi is another big base/work for TMI so I kept myself busy. On our last day there, the Base Coordinator took us on a nine-hour truck ride through Malawi to show us some Rescue Units and Matron Units. This was so fun for me, because I had never been to a Matron's Unit before!
I'd encourage you guys to go to: teenmissions.org/matron-units and teenmissions.org/rescue-units to read more about these ministries.
When we finished up in Malawi we traveled back to South Africa for a day before we flew back to the States. I praise the Lord for a wonderful trip and for the opportunity to go. We had safety the entire time and were met with no issues. God is good!
For Easter, I traveled to Minnesota to see my best friend, Abby and her family. It was such a good trip and I loved being with them, and just getting to visit and relax.
Teen Missions Mud Run:
On May 6th, TMI hosted our annual Mud Run. This year it was rebranded with a new name! The Tough Gator 5k Mud Run. It was a good day with a nice turn out of around 450 people. I worked doing registration along with Faith. It was cool getting to interact with everyone who came to run. For some this was their first time attending, and others have been coming back for years! We praise the Lord for the money that was raised from the Mud Run and the people it will help overseas. We were also thankful for the opportunity to reach out and encourage the local folks who came to the race.
Summer Plans:
As of now, I will be leading a team to Bolivia! We have 19 team members and 5 leaders altogether. I'm super pumped to be traveling back to Bolivia! I was there in 2021 with my church from Florida, so it will be cool to return. Our team will be in the city of Montero, and we will be working alongside another ministry to build a 30x30 building for their church/school. My responsibility, along with the other lady leaders, will be to cook all the meals and care for the kids (physically, emotionally, spiritually, and more). I am once again a head leader alongside one of our male staff members. In addition to us, we will have one male assistant leader (a student in our Bible school), one female assistant leader (a fellow staff member), and a second female assistant leader (a volunteer). It will be a blessing to have these leaders alongside us! I'm really looking forward to this team and for the kids to arrive. Boot Camp (training time) starts on June 20th. We will be completely finished with the summer program on August 4th.
During Boot Camp I will once again teach music to the teams and help out in any other ways that might be needed. I really appreciate your prayers as the summer program is fast approaching! Pray for the team members and leaders who are still raising support to go, and for us as staff as we get everything ready.
After Summer Details:
After the summer program wraps up, I'll be working an additional two weeks in the office getting everything caught up and ready for the fall as much as possible. After this I'll travel up to Georgia to spend time with family! I'm planning on being there from August 21st until September 1st when I fly back to Florida. I would love to see any of those in Georgia who are available! Shoot me an email ([email protected]) if you're interested. I would love to sit down and chat or go grab coffee!
What God's Been Teaching Me:
A few weeks ago, I was able to be a guest on one of Teen Missions' podcasts 'Wholly Devoted'. It's a podcast for young ladies, and in this particular episode we talked about 'Being Defined by Christ'. It was such an encouragement to be asked to be a guest and to dig into the discussion of "How are we defined by Christ?". Within the past year God has been teaching me a lot about how He sees me, and how He values me. There's Scripture upon Scripture where God is talking about His love for His children. It is truly humbling to know that the God of the universe loves me, chose me, and sees me as His own.
Galatians 4:4-7 says, "But when the fullness of time had come, God sent forth his Son, born of woman, born under the law, to redeem those who were under the law, so that we might receive adoption as sons. And because you are sons, God has sent the Spirit of his Son into our hearts, crying, "Abba! Father!" So you are no longer a slave, but a son, and if a son, then an heir through God."
Something we discussed in the episode was how we see ourselves is often not how God sees us, and what a great reminder it is to know that the only voice that matters is our Creator's.
Psalm 139:13-15, "For you formed my inward parts; you knitted me together in my mother's womb. I praise you, for I am fearfully and wonderfully made. Wonderful are your works; my soul knows it very well. My frame was not hidden from you, when I was being made in secret, intricately woven in the depths of the earth."
Thank you for taking the time to read this update! It was a joy for me to write it for you.
Thank you so much for your continued support! I'm incredibly grateful for those who take the time to give support financially or prayerfully. I'm always looking for others interested in partnering with me, if that's something you or someone you know would be interested in, please pass my information and the teenmissions.org website along to them.
Blessings and much love!
Emily