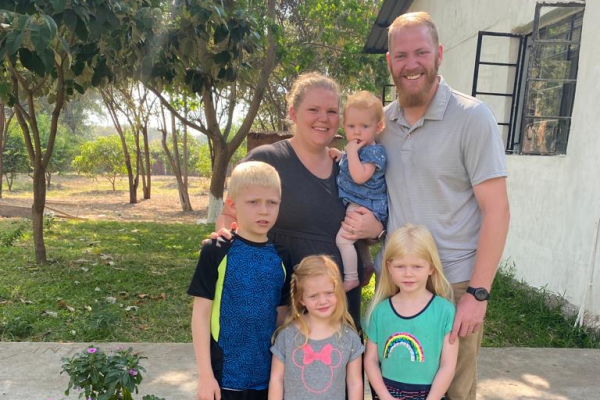 Seth & Emily Phippen Newsletter (Winter 2023)
Greetings,
We are grateful for your interest in keeping informed about the work we are doing with Teen Missions. We are blessed to be able to serve the Lord and we appreciate the support of our team in making it possible. Thank you for being a part of our mission to proclaim the Word of God throughout the world with Teen Missions.
The Big Move
On December 6th Emily, the kids and I started the long trip from Malawi to Florida. Leaving Malawi was a bittersweet experience, as we have grown to love the country and the people we have met during our time there. It was difficult to say goodbye and we will deeply miss the connections we have made. Florida friends, church, and family have really been making the transition much easier. Many people have come alongside us and helped us with clothes, furniture and even food. We are so blessed!
Family Life
Our family is doing great and the kids are growing up every day. James is 8. Lauren is 6, Emma is 4, and Sadie is 1 and a half. The kids enjoy school and are good students. In the afternoon after school they enjoy riding their bikes and playing with friends outside. A friend gave James a skateboard and he loves it. Emily does a great job teaching the kids school. Her biggest job right now is to take the house that we are staying in and make it into a home! Teen Missions has a double-wide mobile home here in Merritt Island for us to live in. It is a beautiful home and we are very thankful for this provision.
New Adventures in Leadership
I hope you have heard about my new position as the Vice President of Operations with Teen Missions. Since the start of the new year I have been busy learning and growing in my knowledge of the staff and ministries of Teen Missions worldwide. Most of my experience with Teen Missions has been in Africa and I know a lot of the staff in that part of the world. However, Teen Missions also works in many other places like Australia, Honduras and various countries throughout Asia. I have been involved in zoom meetings almost daily with staff from these countries. Because of this I have met many of the Teen Missions Coordinators and staff of the various countries where Teen Missions is working. It has been a great joy to meet them and hear stories and testimonies from them first hand of the ways that God is working among them!
I will be working hard to develop the leadership of Teen Missions not only in Malawi, but now around the world. The position brings many new opportunities and challenges, but some things remain the same. First, Emily and I welcome this position with the same commitment to faithfulness as we had in Malawi. Faithfulness to the Lord, to those we serve and to all who partner with us in the work of bringing the Gospel to rural villages and communities around the world. Second, commitment, Emily and I are committed to telling, teaching, and training others all about God and his Word. We will use everything that God has given us to let the world know that He rules and reigns. Third, partnership, without the invaluable support of partners like you, our ministry with Teen Missions would not be possible. Emily and I are deeply grateful for your continued financial partnership. It is truly through your generosity that we are able to continue the work God has called us to. Each of these points give us direction as we press on in what God has called us to do.
Connect with us:
321-222-8136
221 Heavenly St
Merritt Island, FL 32953
Praise:
God has provided different people to help us with getting vehicles for our family since we moved to Florida.
Our church, family, and friends have provided us with lots of furniture for our house, clothes and household needs.
The transition out of Malawi proceeded smoothly, and the leadership in place there is thriving.
We arrived in Florida with all our belongings.
Prayer:
Pray for our staff to be bold and courageous as they share about Christ around the world.
Pray that our family would continue to grow closer together and closer to Christ as we serve Him.
Pray for our leadership team in Malawi. Especially Miscious Tsukani, the Country Coordinator we trained.
Thank you for following the work that we are doing with Teen Missions through all those who partner with us. We are grateful to be used in this life-changing work. Your unwavering commitment to impact the lives of people around the world is truly remarkable and deeply appreciated. Thank you for your tireless efforts. We could not do this without you.
If you are not part of our prayer team and you would like to join us please fill out the information at the bottom of this letter and send it back to Teen Missions to let us know. We would love to have you join us. You can make a difference.
Soli Deo Gloria,
Seth & Emily Phippen,
James, Lauren, Emma, and Sadie