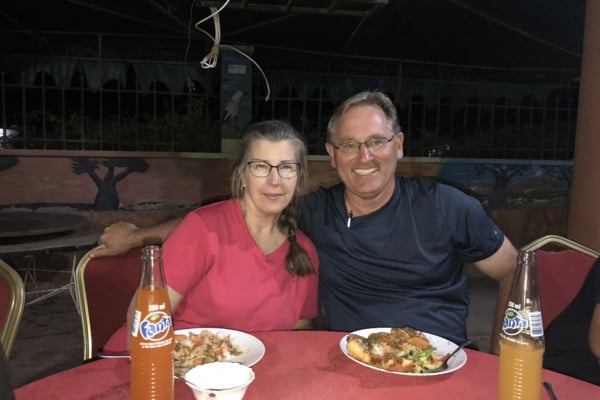 Steve & Gay Petersen Newsletter (Fall 2022)
Dear Friends and Family,
OVERSEAS MINISTRY UPDATE
We heard exciting testimonies from around the world as our teams returned from work and outreach ministries in Fiji, Iceland, Honduras, Tanzania, Zambia, South Africa, Uganda, and India. We will be posting stories at youtube.com/teenmissions in the coming months. Stay tuned! We are expecting to open new Boot Camps in Tanzania this winter and new ministry locations have been completed across Zambia as well. Australia is preparing for its upcoming Boot Camp in December. Several other African Boot Camps are planned this winter in addition to Honduras and one Boot Camp in Asia.
WHAT ARE STEVE & GAY UP TO?
We traveled to Asia (a sensitive country) for our Asian Summit in August. It was a gathering of our national leadership. We saw a powerful move of God, deepened relationships, and participated in exciting visionary planning. We also ran our first (in a long time) US staff retreat & debrief in Bradenton, Florida. In October, Mission Excellence ran a two-day workshop toa further train our staff in operational strategies for our summer program. We learned a lot! Since I was elected President in June, I have had long busy days filled with meetings and international zoom calls. I am also teaching Minor Prophets class this term at Sojourner School of Ministry. Gay has been serving in the HR Department and is also coordinating volunteers. She also continues to oversee Faith's last year of homeschool training!
WHAT ARE WE PLANNING FOR WINTER 2022?
Currently, Gay and I are assigned to the Taiwan summer team. At present, we expect Timothy and Faith to join us as leaders on this team. Teen Missions has been invited to run a future national Boot Camp in this country, and we are planning a possible setup trip to Taiwan this winter.
TIMOTHY & FAITH UPDATE
Timothy has moved in with the 'bachelors' as he continues his internship with Teen Missions. He's serving in the US Teams Department and in Promotions. He has several promotional events scheduled in the western US during the coming weeks. Please pray for opportunities for him to share the Gospel and recruit team members and leaders for 2023. Faith is in her senior year of high school and is finalizing plans for getting a job at the beginning of 2023. Please pray with her as she seeks the Lord for what to do after graduation.
PRAISE ITEMS
For all of the 2022 USA teams that saw lives changed and discipled. So much work and community outreach was accomplished and all returned safely. To God be the glory!
Our new Sojourner Student Center is up and running with our first seven students!
For a very successful Asian Summit with our national leaders from six countries. Pray that we can be efficient and fruitful to implement our mission and vision as a ministry.
For the great worship, discussion, and fellowship at our Staff Retreat in September.
For over 500 teens attending our Boot Camps in Malawi in October.
PRAYER ITEMS
Pray for Teen Missions alumni, Ukrainian nationals, now seeking to render aid and offer the Good News to their fellow Ukrainians in the midst of war. Pray for wisdom as Teen Missions seeks ways to partner with and assist them.
Internal hostilities are ongoing in two TMI countries. Pray for Asia (sensitive) & Cameroon, that God will bring peace and stability so that our Gospel proclamation efforts can continue.
Pray for the Lord's presence and anointing at our first RYR (Relentless Youth Retreat) scheduled for January.
Pray for safety as we travel thousands of miles in the USA this fall.
Pray for wisdom as I, the new President, build a new administrative team at the Florida headquarters and reorganize roles and responsibilities.
THANK YOU!
We are unbelievably blessed to partner with you in this adventure of training youth and mobilizing end-time workers to reach the lost in these last days. To God be all the Glory!

Together in His Harvest,
Steve, Gay, & Faith Petersen


Is. 6:8 / Heb. 11:1 / Gal. 2:20