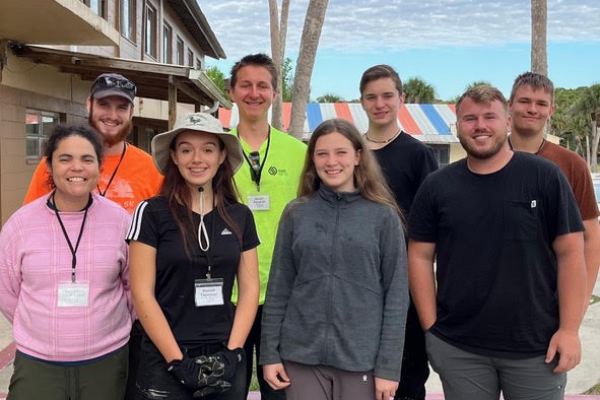 2023 Space Coast Spring Break Team Report
Hey guys!
The Space Coast team is having a blast serving at the Teen Missions Headquarters this week! The team has been hard at work alongside Teen Missions staff in the bright FL sun. We have been assisting in a lot of brush clearing for hiking trails, organizing for Teen Missions to put up their tents for their Summer program, and also some painting!
The team members have had the best mindsets coming into this week in regards to an awesome work ethic and the willingness to do whatever is asked of them. They have worked together very well and have amazing team comradery for just being together for 3 days. There is always a sense of joy with this crew and it's a huge encouragement to the people they are around. On Tuesday evening the group went out to the beach to do some evangelism with the Bible School students from Teen Missions' Sojourner School of Ministry. The kids were definitely stretched when it came to approaching people but they were bold in sharing the Word.
We have been going thru a Bible study each day and the leaders have been very impressed with the mature insights that these young people have brought to the table. The team also breaks off into a guy-and-girl Bible study every other day.
On Friday the team will work at Teen Missions HQ for a half day and then we will be going to the beach for a fun day before the week ends!
To the parents of these amazing young people, thank you for sharing your children with us this week. They all have such good hearts and have been a huge encouragement to the staff here at the base. We are sad for this week to end but we are excited to see what the Lord has for this high-quality group of teenagers in the future. They are the next disciple-makers, the lightbearers, the next ambassadors of Christ. May God guide and direct their steps as they pursue Him in everything they do.
Blessings
Psalms 1
Space Coast Spring Break Leaders