Instructions for making the Wordless Book
(Scroll down for instructions on making the bracelet)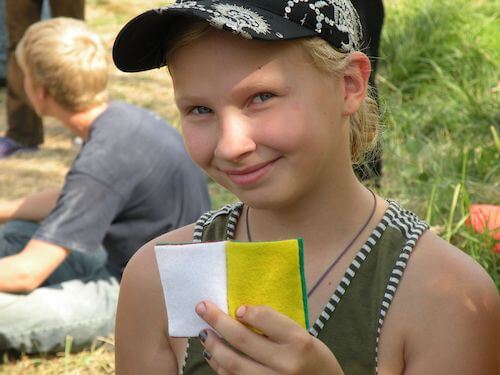 Supplies Needed
Felt Material in the colors listed below: (Felt is the most durable)
Black (2 1/2″ x 3″ square)

Red (2 1/2″ x 3″ square)

White (2 1/2″ x 3″ square)

Yellow (2 1/2″ x 3″ square)

Green (5″ x 3″ rectangle)
Needle and Thread
Directions:
1. Place colored squares on top of each other in specific order (black, red, white, and yellow).
2. Wrap length of green felt around colored squares to form a book binding.
3. Sew a 1″ seam, down green felt side making sure to sew through all colored squares.
The seam should bind the book and its pages together.
Variations:
Braided yarn can be used to hold the booklet together. You would need to punch a hole in the material.
Your Wordless Book doesn't have to be square. Example: heart shapes are cute, although time-consuming.