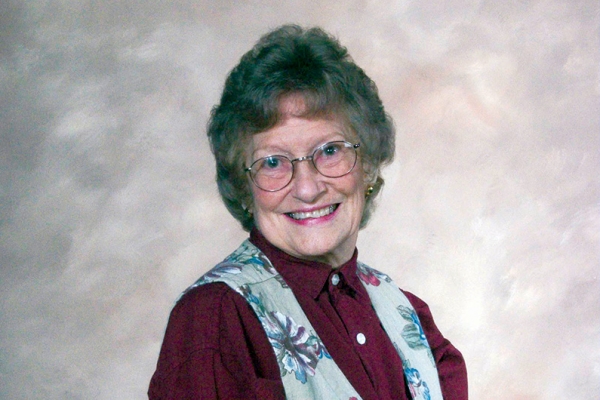 Gayle 'Widder' Will — Home with the Lord
With heavy hearts we share that our beloved Gayle 'Widder' Will has gone home to her Savior on Monday September 6th, 2021.

Widder (as she was affectionately known) was one of the four founders of Teen Missions International, along with Robert M. Bland (her former pastor in Oklahoma where they first met), his wife Bernie Bland, and Jim Person.
Teen Missions office and headquarters was first located in Widder's one-car garage!

On the first training day of The Lord's Boot Camp, Gayle would share the 'burden letter' identifying with those who might be struggling or homesick. She was also a beloved worship leader for the classic Boot Camp songs such as 'Joy is the Flag', 'I'll Fly Away', 'Hiya Hiya', 'I'm goin Up' and of course, 'Walk'n on the Heavenly Road'. She had a signal to get everyone quiet... 1, 2, 3, then a hand over the mouth and the other hand over the forehead in a backwards salute. She once made the mistake of letting out a 'Whoop' when she employed that signal. The teens picked up on it and for years afterward it became a greeting when they would spot her in Boot Camp. Gayle was an effective teacher and taught the 'attitudes' class with powerful illustrations from her years in ministry service. Widder also made an acting appearance (as herself) in the Ken Anderson film drama 'Mud Sweat & Cheers'.
Gayle helped to train hundreds during Teen Missions' Leader Training Seminars, held across the country and led evangelistic teams, including the original 'Dial-a-Teen' teams from Columbus, Ohio to far-reaching locations in South Africa, Singapore, and Australia. She also hosted a number of Debriefs for teams as they prepared for the adjustments of returning to life at home.

Widder was the 'heartbeat' of the ministry and deeply loved, mentored, and followed the base of Former Team Members (FTMs). Even as the number of Boot Camp alumni passed 45,000 teens, Gayle would answer personal correspondence offering scriptural advice and prayers... often remembering FTMs by name. For many years, Gayle also served as the Secretary of the Governing Board of Teen Missions.
Grateful for her enormous contributions, we mourn her loss here on earth. We are mindful that she would want all of you to know that through the cross of Jesus Christ, you too can receive forgiveness from sin and look forward to joining her amongst that 'great cloud of witnesses' who have finished their race' and heard their Master say, 'Well done, thou good and faithful servant... enter into the joy of your Lord!