Amanda Evans Newsletter (Fall 2020)
Hey Family & Friends,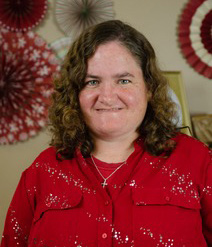 WOW, 2020!! It has been crazy due to COVID-19—no trips overseas, getting quarantined at home, cleaning up at Teen Missions and getting ready for 2021. Even though we were not able to send teams overseas this past summer, we were able to do a team on Zoom/social media called #MissionHere. It was open to all those who were signed up for 2020 summer teams, as well as anyone else between the ages of 13-17 who wanted to join. There were around 100 kids signed up, which included some who had never been on a Teen Missions team before. Each participant was sent a resource packet and were encouraged to do devotions every day and be missionaries in their own city. Before COVID, we were set to go on teams and I actually had been placed on my fifth team. I was scheduled to go on the Fiji team and was excited because I had never been there.
My office responsibilities have changed slightly. I moved back to the Finance Department and am learning new things. I will still be doing the shipping/receiving stuff, but also will be helping with the finances. We recently updated our website and database; so I'm looking forward to learning all this and getting more responsibilities.
Road Trip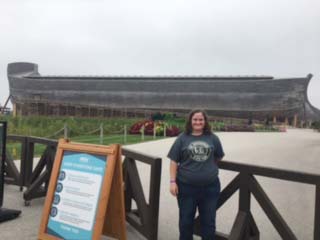 August 30th I was able to speak at my church in Tavares, FL and then I drove to Savannah, GA and enjoyed sightseeing with some of my former team members. The next day I drove to Tennessee to see more former members, but that changed and was able to see a friend from childhood. On September 1st, I drove to Oneida, KY to spend some time with friends. On the 5th, I drove to Forest, OH and spoke at a church on the 6th. On the 8th, I got to travel to Staten Island, NY to visit my sister and brother-in-law for a couple of days. Then I left on the 9th to go back to KY and on the way I stayed the night in Purcellville, VA with some friends.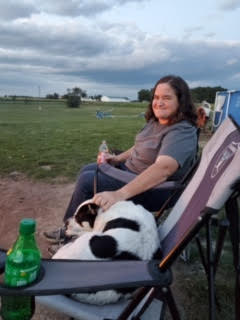 On the 10th I caught up with friends from NC in KY and got to go to the ARK Encounter with them on the 11th. There is a lot to do there so hopefully I will be able to go back one day. It is awesome to have friends and family in different states that I can visit. It was a great trip and I thank everyone for their hospitality and fellowship.
Before I left KY I had to go get a COVID test done so I could volunteer with Samaritan's Purse in Lake Charles, Louisiana. It was negative—PTL! This was my fifth time volunteering and it was the smallest amount of volunteers. I'm glad I'm able to help those who need it. The area was damaged badly from the hurricane. Please pray for more volunteers to help because when I left, there were still about 1100 cases open for those who need help.
We are gearing up for the summer of 2021. We will be sending out packets to the 180 people signed up for teams for 2021. Please pray with us that the countries will open up so that these young people can serve the Lord this coming summer.

Thank you for your prayers and financial giving.
Amanda Evans




"Keep your lives free from the love of money and be content with what you have, because God has said, 'Never wilI leave you,' So we say say with confidence, 'The Lord is my helper; I will not be afraid. What can mere mortals do to me?'" —Hebrews 13:5,6


P.S
I'm moving into a brand new house soon. :)
My NEW address: 236 Heavenly St, Merritt Island, FL 32953