Jahswel & Cheyenne Mpagaja Newsletter (Winter 2021)
Greetings, for the very first time, from MR. & MRS. MPAGAJA!
We are so excited to write to you as a FAMILY! In my last newsletter I announced that I got engaged and now I can announce that Jahswel and I are married!
WEDDING
On November 7th, 2020, we had a gorgeous ceremony in the tabernacle right here at the Teen Missions base, and an exciting reception at the beach just down the road. Jahswel's relatives from Zomba made the trip to attend the wedding, along with many friends from all over Malawi, including Teen Missions' staff and students. There must have been close to 300 hundred people! Jahswel and I felt so blessed and at peace the whole day; everything went beautifully. I was nervous about how I would feel getting married without my family by my side, but God was so faithful and gave me peace in my heart as I walked down the aisle, and throughout the day knowing that my family loves me and is celebrating with me from afar.
TEACHING: Finishing Term 4 and starting Term 5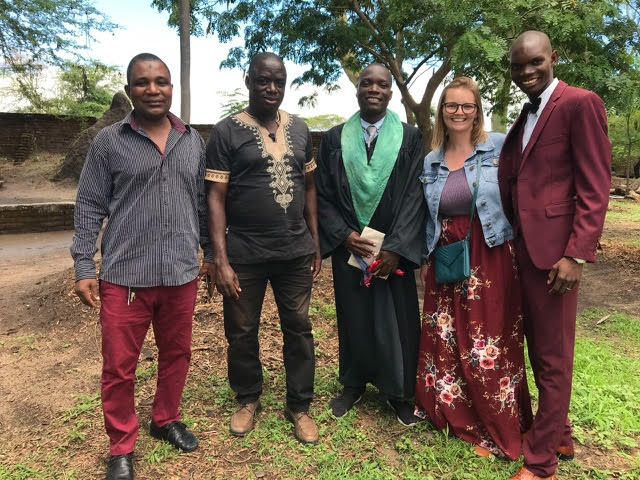 Our Bible schools were closed for five months due to COVID-19, and during that time Jahswel was able to come from the Mangochi base in the south to stay at the Chipoka base where I live. We were blessed to spend that time together, especially as we planned our wedding. Once the schools opened up again, Jahswel went back to Mangochi to finish out Term 4 that was interrupted by COVID, teaching his class for three more weeks, and I finished teaching my English Grammar class. We were so very excited to receive the students back! It was a beautiful reunion.
After we completed Term 4 in the end of September, Jahswel was permanently transferred to the Chipoka base to teach at the Bible school here. (Which means our long distance relationship had FINALLY come to an end!) We began Term 5, and he taught Synthesis V: The Four Gospels. As he studied these books, he learned so much about the power that has been given to us as Jesus' followers to share the Gospel, pray for the sick, and do God's ministry. I was given the term off of teaching so that I could focus on planning our wedding, which I was very thankful for, since wedding planning can get pretty overwhelming, especially in a foreign country in the middle of a pandemic!
BOOT CAMP
Term 5 finished in December after our wedding, and we got to work preparing for a mini Boot Camp! Because of COVID, we could not have our normal summer Boot Camp program, so the staff brainstormed and came up with the idea of doing a mini Boot Camp during the Christmas holiday, so that's what we did! We had 23 team members on four teams, Boot Camp was four days of training during which I was Miss Piggy and taught a Bible class on Purity, and Jahswel was busy being the rally MC, the Obstacle Course supervisor, preaching, and teaching classes. It was a blast! And all 23 team members came to Christ during Boot Camp! Praise the Lord!!! On top of that, every team member applied for our Bible school, went through interviews, and were accepted! This was our aim in having a Boot Camp before the end of the year, so that we could recruit more students, as 30 of our current students were graduating, cutting our student body in half.
CHRISTMAS
Christmas day was also Commissioning Day, when we sent out the four Boot Camp teams to go to their projects. So, although it didn't feel like a normal Christmas Day, it was beautiful to us as our first Christmas as Mr. and Mrs. Mpagaja!
MATRON UNITS
Because all the schools in Malawi closed due to COVID, that meant that the girls at our Matron Units also went back home. This was a very difficult thing for us to see happen, as the girls are at risk being at home of entering into early marriages and pregnancy. Staying at home with nothing to do, as teenage girls, they feel like life is better having a boyfriend who can buy things for them and give them money. Some do it just for fun, but many see it as a way to help their family buy food. We were ecstatic with the news of the schools opening up again and the girls' return to the Matron Units. Unfortunately, not all the girls came back to continue their schooling due to the reasons previously mentioned.
New Mattresses!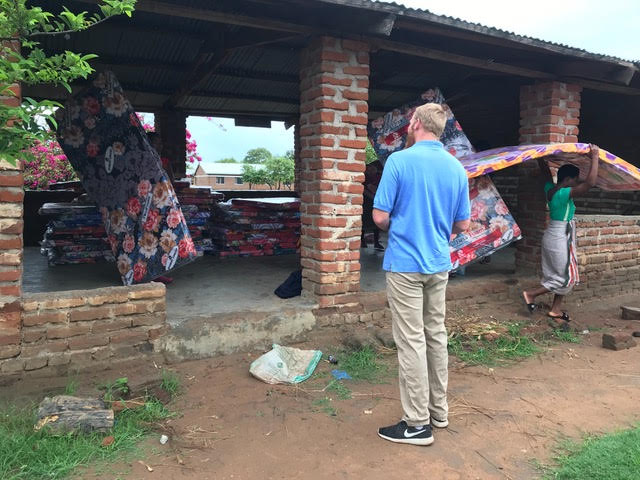 On January 1st, we were able to deliver brand new foam mattresses to the Matron Units! This was a GREAT blessing to the girls, as they had been sleeping on bed-bug infested mattresses that were dirty and torn. It was a huge need for them, and a blessing to see it fulfilled. The girls are incredibly thankful to the donors who gave in order to make this happen. Your donations make a difference!
TEACHING: Term 6
In the first term of 2021, Jahswel and I are both teaching! Jahswel is teaching Minor Prophets: Hosea through Malachi. His class is on Tuesday and Thursday, with the English school in the morning and the Chichewa school in the afternoon. I am teaching Synthesis VI: The Pauline Epistles, which is I Corinthians through Philemon. And my class is Monday, Wednesday and Friday mornings with the English school. It has been a learning curve for us both in different ways; Jahswel is getting used to teaching in Chichewa as he has always taught in English until now. I am finding my rhythm in studying for my class, digging deep enough into the books to teach it, but not so deep that I delay and get off schedule, as I have many books to get through in only eleven weeks! But we have seen God's faithfulness as He helps us study, and as we step into the classroom to communicate His Word to these students. Teaching the Word of God is certainly a blessing and a privilege. Pray for us!
PRAYER REQUESTS: JAHSWEL'S VISA
We are currently in the process of gathering required documents in order to apply for Jahswel's visa so that we can come to the States and he can meet my family, and all of you! Our vision is to continue serving the Lord on staff with Teen Missions, living at the headquarters in Florida and periodically visiting home in Pennsylvania, until eventually moving back overseas. We are not sure of the timeline right now with how COVID-19 is affecting visas and travel. But as we go through this process, we would like to ask for your prayers. As you can imagine, it is complicated and can be overwhelming, and we know that only God can give us favor and open the doors for us to make it. Which is why we know that having a team of people lifting us up in prayer is crucial and will make all the difference. Please contact us through our information below and let us know if you would like to commit to faithfully pray for us!
As we prepare for Jahswel's visa, we need to save up for the visa costs as well as plane tickets. With this in mind, we have raised our monthly goal to $1,820. We are currently receiving $676 per month from our faithful monthly supporters. We are asking for your prayers that God would raise up committed monthly supporters to join us in ministry and help provide the funds necessary for us to fulfill our goals for our future, as well as provide for our daily needs. We trust in the Lord our God as our Provider, and we have peace that our future rests in His hands. He knows our needs even before we ask Him! This is a great promise from Matthew 6 that keeps us encouraged. Again, if you would like to commit to faithfully pray, let us know! If you feel it in your heart to give a one-time gift, or to become a faithful monthly supporter, you can sign up online by following the link below. We are thankful for however the Lord leads you!
THANK YOU
From the bottom of our hearts, we say THANK YOU to those who faithfully support us in prayer and giving every day, every week, every month. We take it as a great blessing knowing that we are not in this alone! Our prayer is that God would keep on blessing you and your family as you serve Him wherever you are.
"Therefore do not be anxious, saying, 'What shall we eat?' or 'What shall we drink?' or 'What shall we wear?' For the Gentiles seek after all these things, and your heavenly Father knows that you need them all. But seek first the kingdom of God and His righteousness, and all these things will be added to you." Matthew 6:31-33
For His glory alone,
Jahswel and Cheyenne
Link to give online—teenmissions.org/missionary/freeman
Email—[email protected]
Jahswel's Whatsapp—+265 998 66 70 13
Cheyenne's Whatsapp—+265 992 87 62 26
Mailing address—Jahswel & Cheyenne Mpagaja
Private Bag 3 Chipoka, Salima Malawi, AFRICA