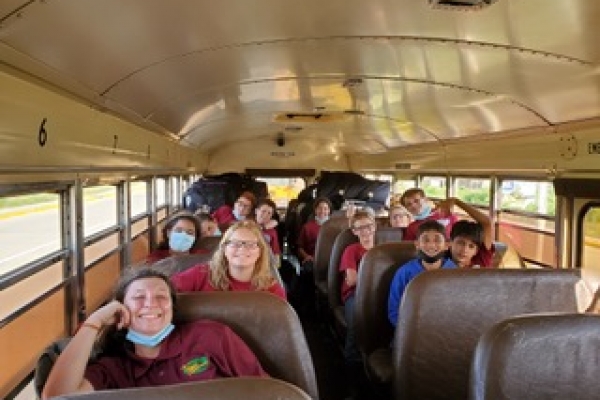 Hello from the Honduras Preteen team!
Hello from the Honduras Preteen team!

Wow, we can hardly believe we've already been in Honduras for nearly 5 days! Things have been going very well, and we're enjoying our time here.
Since our last update we said 'see ya later' to the teen team as they made their way down to the other base in La Mosquitia. Since then we've had the base to ourselves so to speak. Along with the Teen Missions staff and students here in Santa Cruz. Who have all been so kind and welcoming to us. Once we got settled in, we started getting into our routine. Wake up is at 6 AM and the kids start off the day with Library Reading. During this time the kids are able to read a book about different missionaries and their lives. After that we have breakfast and personal devotions. Normally after we finish our devotions we have a couple people share about what they read. This has been a very fruitful time and we have enjoyed hearing from one another.
After this the kids head off to work with Mr. Daniel, and half the time Ms. Sydney joins them. The kids have been working on these two cabins the base has. They emptied the buildings and then tore down the roofing. This was no easy feat. But the kids have done a good job with it. Parts of the old shingles they've wheeled down to the road to use in patching holes to make the road smoother to drive on. This is also a good amount of work as the road is quite a distance away and an incline on the way back up. But they've taken that all in stride. We as leaders are constantly reminding them to 'drink more water!'
They stop work around 12 to eat lunch and then we have our Bible study time. The kids have been learning more about being thankful and having a heart of contentment. During this time we've had a lot of fruitful questions and conversations which has been encouraging. After this the team goes back to work until 4 pm. At 4 they have bathing and laundry time. It's been fun to have the kids come back in and tell me of all their fun escapades of hand washing laundry! After dinner and free time we have guy and girl Bible study time. The girls have been loving this time together as ladies with Ms. Emily and Ms. Sydney, and ask if we can do it everyday rather than just Monday, Wednesday, and Fridays. After guy and girl time, we have evening devotions where one member of the team shares something God has placed on their hearts. Its been fun to hear from the different leaders and team members so far!
Yesterday, June 30th, we were able to celebrate one of our team members birthdays. Will H. He was KP (kitchen patrol) for the day and we got to make him a special cake! Please see photo below.
The weather here has been rather interesting. It reminds us a lot of Florida at times. The days are hot and sunny, and we always manage to get an afternoon rainstorm. Yesterday's rain was insane! The kids all made a mad dash to get their laundry off the lines. However, the evenings are nice and cool! That's definitely different than Florida.
There aren't any natural disasters or political unrest.
Policies are being maintained.
Thank you to the families and friends of our team, for your constant prayers. They are felt and appreciated.
Love,
The Honduras Preteen team.