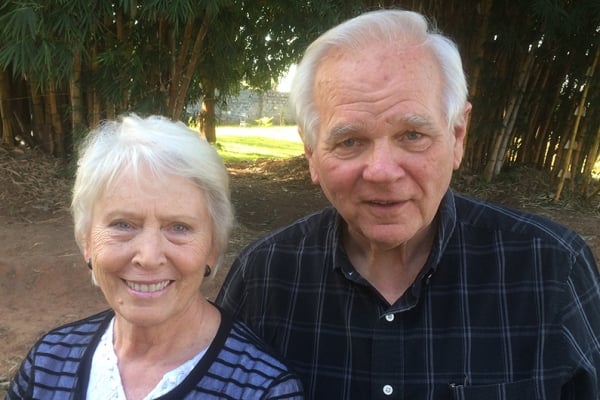 Doug grew up on a farm in Minnesota. He moved to Denver, Colorado with his parents when he was 15 years old. After finishing high school, he attended Colorado University. He received a degree in chemistry, with a minor in education. Doug taught in the Denver Public Schools for nine years.
In 1972, Doug was involved in helping to establish a Christian high school in Denver. Doug was the high school principal and a teacher in this school for eleven years.
Barb also grew up on a farm in southern Minnesota. She met Doug when they attended the same junior high school. After high school, she attended two years of college and completed two years of training in x-ray technology. She graduated from Fairview Hospital as an x-ray technologist and worked for a short time in that field after marrying Doug.
Doug and Barb were married in 1963. They lived in Denver, Colorado. They have two children. Steve Petersen and Sarah Codding.
Steve and his wife, Gay, have two children, a son named Timothy and a daughter named Faith. They are both on the staff of Teen Missions International, working out of the home office in Florida.
Sarah is married to Rob Codding. They met while working on staff at Teen Missions and they have four children.
Doug and Barb took their first team to the Philippines as volunteer leaders in 1981. They took a second team to Papua New Guinea in 1983. In 1984, they felt the Lord leading them to join Teen Missions Staff. They began to run Boot Camps in Zimbabwe in 1985 and started a BIBLE, MISSIONARY & WORK (BMW) Training Center there in 1991. In 1998, they moved to Zambia to run Boot Camps and a Bible school at the Teen Missions base near Ndola. Ndola is in the Copper Belt, located in the northern central part of the country. Zambia quickly became home and they are still serving in this country today. They are base coordinators and supervise the many ministries and projects of the Teen Missions base, such as the BMW, Boot Camps, Rescue Units and Sunday Schools.
Doug and Barb are very grateful to the Lord for allowing them to serve with the Teen Missions ministry. They are very grateful also for the faithful prayer and financial support that they have received.
Birthdays
Doug – July 22
Barb – June 7
Anniversary
Prayer Requests
Wisdom – James 1:5
Safety – Psalm 91:1-16
Fruitfulness – John 15:16

But seek ye first the kingdom of God, and His righteousness; and all these things shall be added unto you. Matthew 6:33