Missions Trip Packing List
Packing for a missions trip requires careful planning.

Packing for a Missions Trip—101

With 50+ years of short-term missions experience, the Official Teen Missions International trip packing list is one of the best.

Whether you're coming with us or heading out with your church or another organization, we hope you find this list helpful... May the Lord be glorified as you take this exciting step of faith!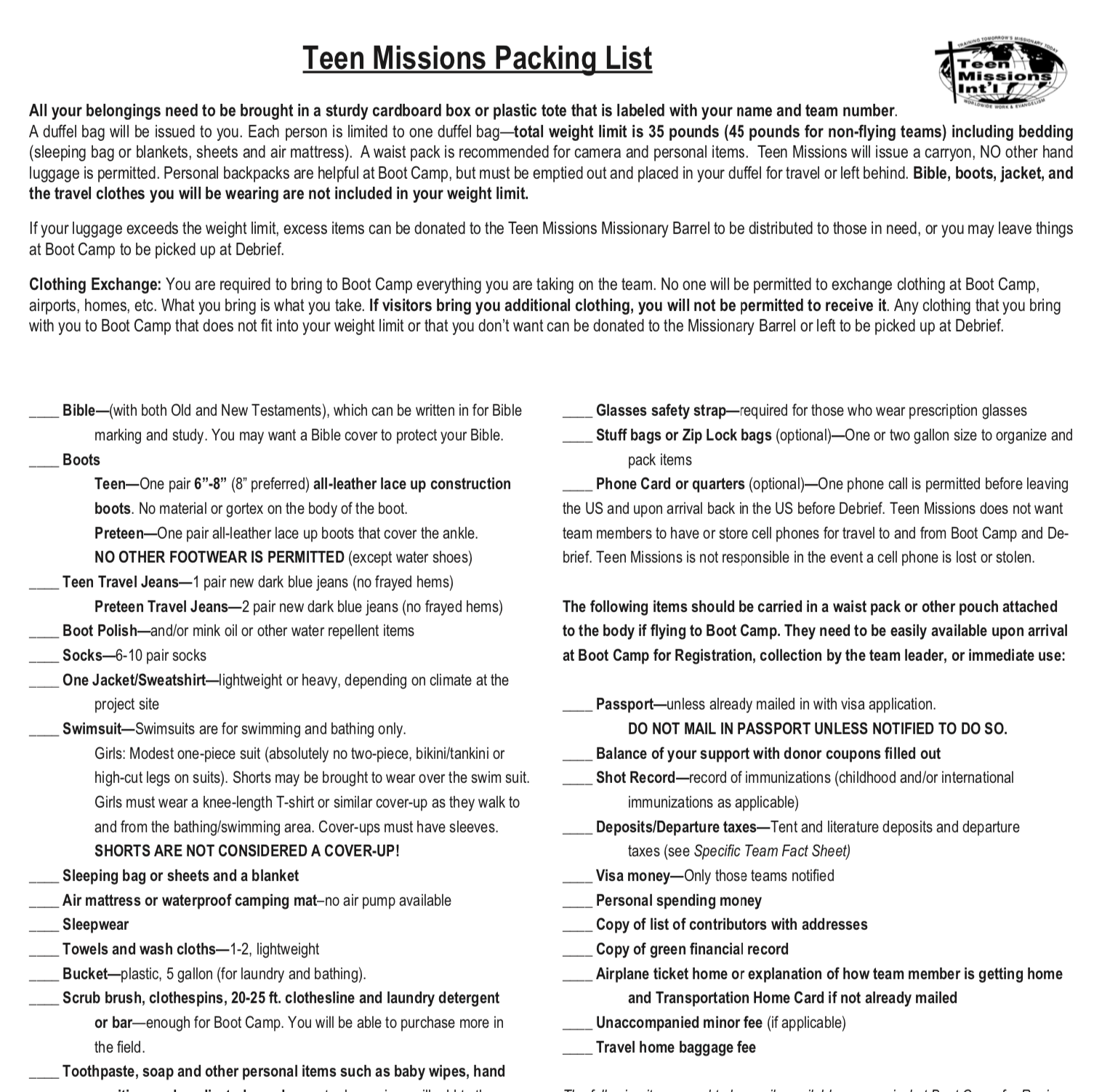 View or Download our Packing List & Watch our Step by Step Instructional Video below.
Tips & Tricks on packing for your Trip


Packing List Explanation: In most cases you will need everything we suggest, but don't forget there is a weight limit (35 pounds—flying teams, 45 pounds—non-flying teams; includes sleeping bag) The tool that you bring to Registration is not included in the weight limit. Dress requirements will be strictly enforced. Unless the weather is expected to be cool/cold, bring lightweight clothing to help keep your luggage weight down. Check the weather section of your Specific Team Fact Sheet, (mailed in the spring), for details on the climate to which you are going. Lightweight clothing dries better at Boot Camp. White or light-colored clothing is difficult to keep clean. Label everything with your name and team number.

All your belongings need to be brought in a sturdy cardboard box or plastic tote that is labeled with your name and team number. A duffel bag will be issued to you. Each person is limited to one duffel bag—total weight limit is 35 pounds (45 pounds for non-flying teams) including bedding (sleeping bag or blankets, sheets and air mattress). A waist pack is recommended for your camera and personal items. Teen Missions will also issue a carry-on and NO other hand luggage is permitted. Personal backpacks are helpful at Boot Camp but must be emptied out and placed in your duffel for travel or left behind. Boots, jacket, and the travel clothes you will be wearing are not included in your weight limit.
Clothing Exchange: You are required to bring to Boot Camp everything you are taking on the team. No one will be permitted to exchange clothing at Boot Camp, airports, homes, etc. What you bring is what you take. If visitors bring you additional clothing, you will not be permitted to receive it. Any clothing that you bring with you to Boot Camp that does not fit into your weight limit or that you don't want can be donated to the Missionary Barrel or left to be picked up at Debrief.
Teen Missions Trip Packing List
Bible—with both Old and New Testaments), which can be written in for Bible marking and study. You may want a Bible cover to protect your Bible.
Dish bag—a hand-made bag of light-weight cotton fabric with a drawstring. A pillow case cut in half with a small hem to hold a drawstring can work. (No mesh please) BIG ENOUGH TO HOLD DISHES/CUTLERY, approximately 24"x16".
Boots—Teen—One pair 6" to 8" all-leather lace up construction boots. You may bring an extra pair for the Obstacle Course, but this is not required. May have gortex on the boot.
NO OTHER FOOTWEAR IS PERMITTED (except water shoes)
Dishes/Cutlery-lightweight but sturdy bowl and tray/plate, and knife, fork, and spoon
Boots—Preteen One pair all-leather lace up boots that cover the ankle.
Glasses safety strap—required for those who wear prescription glasses
Teen Travel Jeans—1 pair new dark blue jeans (no frayed hems)
Toilet paper —One or more rolls
Preteen Travel Jeans—2 pair new dark blue jeans (no frayed hems)
Stuff bags or Zip Lock bags (one or two gallon size) to
organize and pack items in (optional)
Boot polish and/or mink oil or other water repellant items
Flashlight—lightweight but sturdy; extra batteries
Six to ten pairs socks—tube or heavy-type suggested
Sleepwear
One jacket (lightweight or heavy depending on climate at team site)
Towels and wash cloths—one or two, lightweight
Camera & case but no large bags or extra lenses
Bucket—plastic, 5 gallon (for laundry and bathing)
Swimsuit— Swimsuits are for swimming or bathing only. (See Notes Below)
Scrub brush; clothespins; 20-25 ft. clothesline; laundry detergent or bar (enough for Boot Camp)
One to two sweatshirts (for cold climates only)
Toothpaste, soap and other personal items such as baby wipes, hand sanitizer, medicated powder (extra- large sizes add to weight limit).
Sturdy work gloves — Two pair for work teams and one pair for evangelistic teams
Bandaids—One large box
Air mattress (good quality) or waterproof sleeping pad (no air pump available)
Mosquito repellent—for Boot Camp and field as necessary
Sleeping bag or sheets and a blanket

WORK TEAMS — Boys



Minimum of 3 work outfits—lightweight work pants or jeans, and shirts
1 or 2 dress outfits—slacks (not denim) and collared button down dress shirts for church
1 pair travel jeans—(2 for preteen teams)
* ALL boys must bring a belt *

WORK TEAMS — Girls



Minimum of 3 work outfits—lightweight work pants or jeans, and shirts
1 or 2 dress outfits—dress, blouse and skirt, or jumper (not denim) for church (knee-length slip)
1 pair travel jeans—(2 for Preteen teams)

EVANGELISTIC (EV) TEAMS — Boys



3 casual outfits—cotton pants or jeans and shirts (not worn for work)
2 work outfits—for Boot Camp (lightweight pants or jeans, and shirts)
1 dress outfit—slacks (not denim) and collared button down dress shirt for church
1 pair travel jeans—(2 for preteen teams)

EVANGELISTIC (EV) TEAMS —Girls



3 casual outfits—cotton pants or jeans (skirt/jumper) and shirt (not worn for work)
2 work outfits—for Boot Camp (lightweight pants or jeans, and shirts)
1 dress outfit—dress, blouse and skirt, or jumper (not denim) for church (knee length slip)
1 pair travel jeans—(2 for preteen teams)
The following items must be readily available upon arrival at Boot Camp. They are needed for Registration, collection by the team leader, or for immediate use.
Passport—unless already mailed with visa application. (Do not mail passport unless notified to do so)
Itinerary for travel home, or explanation of how member is getting home, and transportation card if not already mailed
Balance of your support WITH DONOR COUPONS FILLED OUT
Unaccompanied minor fee, if applicable
Shot Record—record of immunizations — childhood and/or international immunizations as applicable
Travel home baggage fee
Deposits—(Tent deposit, literature deposit, and air/departure taxes - see Specific Team Fact Sheet)
Tool or Gift Card — Listed in Specific Team Fact Sheet. Gift card from home improvement/hardware store can substitute for tool
Visa money, if required. See Specific Team Fact Sheet
Dish bag with silverware in it packed at the top of your luggage. The bowl and plate/tray can be packed in your box
Personal spending money
Copy of list of contributors with addresses
Water shoes — For swimming and bathing only, one piece molded rubber and stretch fabric shoes that completely enclose the foot —no flip-flops, canvas/lace-up shoes, or crocs.
Copy of

green

financial record


Definitions and Suggestions:
Dress outfits—guys: For church or evangelism—dress slacks (no denim),
Collared button-down shirt. Dress jeans and T-shirts may not be worn to church. Ties optional unless otherwise stated in Specific Team Fact Sheet. No suits or banded collar shirts. (polo shirts for church are acceptable)
Dress outfits—girls: For church or evangelism—dresses or skirts (no denim) must be below the knee. A knee-length slip must be worn with thin skirts/dresses. No sleeveless tops or blouses permitted. (No T-shirts for church)
Work outfits—Lightweight work pants (weigh less than jeans and are cooler and easier to wash). Consider the climate of the country where you are going when deciding on the weight of clothing. T-shirts are good to work in.
Casual outfits—Khakis, cargo pants, cotton slacks, jeans and clean shirt—not ever worn for work.
Boot Camp clothing—You may want to bring clothing to be worn only at Boot Camp, then donate it to the Missionary Barrel before leaving for your project. This will enable you to keep clothing for the field clean and packed away. It can also help you to accurately determine the weight of your belongings prior to Boot Camp. This is optional. You may also leave clothes behind and pick them up at Debrief.
Clothing Must Be Modest and Neat
Neither males nor females may tie up the bottom of their shirts to expose the midriff, nor can they roll up their sleeves to create a sleeveless shirt. DO NOT BRING TIGHT CLOTHES that give the poured-in look—you will NOT be allowed to wear them. The following clothing guidelines apply the moment you enter Boot Camp, arrive at the airport or bus station and apply until you reach home. Please come prepared and do not bring any of the following items, as you will not be permitted to wear them in order that we may uphold our witness both as a ministry and as Christians.
Guys
You are to wear shirts at all times (with the exception of swimming).
Trousers must be at the waist with no undergarments showing.
No skimpy swim trunks
No skinny or tight jeans or pants
Girls
Girls must wear bras. The midriff should not show when bending over or raising your arms. When either standing or bending, you must be modest on top.
ALL trousers/pants need to touch your ankle

A one piece bathing suit or a tankini with a long top over shorts is required. Do not bring two-piece swimsuits (no French-cut high cut legs, thong)—swim shorts may be worn and you will be asked to wear a T-shirt if the top is not modest (swim shorts and a T-shirt are NOT considered a cover-up)

No split skirts that look like shorts or capris
No sleeveless shirts, blouses, dresses or tops— All shirts/tops, dresses must have sleeves (no cap sleeves)
No sheer or see-through skirts or dresses unless worn with a knee-length slip
No dresses or skirts above the knee—slits cannot go above the knee
No sun dresses
No low-cut (front or back) dresses, blouses/T-shirts including V-necks, scoop necks and any deep front cut in which any cleavage shows
No skinny or tight jeans or pants
No tight tops or pants
Clothing NOT to Bring
Any footwear other than boots and water shoes
Tank tops
Shorts (unless used as sleep wear or over ladies' bathing suits)
Jogging-type pants or sweat pants
Military-like clothing
Oversized or baggy jeans or pants—unless elasticized or worn with a belt
Clothing or other items that may be offensive to our Christian testimony are not permitted. This includes screen-printed/decal items like

Hard Rock Café

, cigarette and beer advertisements, secular rock groups, rude or suggestive phrases, or anything that would be a poor Christian testimony. This also includes those resembling cigarettes, beer or rock groups even if they may be Christian.
Skinny or tight jeans or pants
Tight clothing (shirts or pants)
Pajama pants unless they are dark, striped, plaid or plain. Pajama pants can only be worn at Boot Camp and Debrief—they

CANNOT

be worn on the field!
Items NOT to Bring
Extreme trendy-type reflective sunglasses
Valuables, jewelry, expensive clothes, excessive makeup
Electric, butane gas, or battery-operated curling irons, hair dryers, or shavers
Christian or secular books and magazines (this includes any books that you may have been assigned by a school to read over the summer)
There is nothing wrong with owning these things; however, they are not permitted while serving with Teen Missions as they tend to distract teens from the purpose of the team.
The following items will be confiscated upon your arrival at Boot Camp, as you will not be allowed to have them at Boot Camp, on the field or at Debrief. You will be required to sign a statement in the presence of a witness stating you do not possess these items:
Hunting Knives
Switchblades
Guns
Weapons of any kind
Lighters
Matches
Fireworks
CD players
MP3 players
Radios
Tape Recorders
Video Cameras
Cell Phones
DVD Players
Laptop Computers
Tablets
Electronic Games
Smart Watches