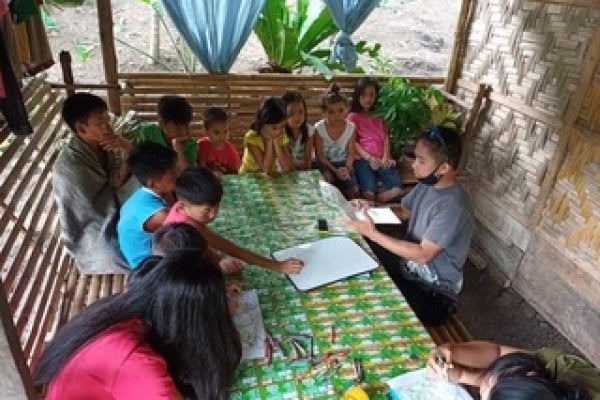 Sunday School Ministry Resumes
The circuit riders have been able to start up their ministry again. We are glad that their ministry went well despite of our situation here. The schools have their Virtual class, but we are so unique because we been able to have a face to face contact with the children.
Here are some of their reports during their ministry.
CIRCUIT RIDER 1: Ramon Dangan and Jovert Endico
Their ministry is just close to the camp, like three kilometers away; they had been able to establish around the area. A lot of children responded eagerly and are very attentive to the class. Many have said that they miss going to school. The riders have been able to see a good opportunity to minister also to the parents because they are attending with their children during the class. Many people need ministering today, because of our situation, especially now that the quarantine is still on going.
CIRCUIT RIDER 2: Wenie Garcia and Arman Mella
So far the ministry is quite good for the riders. Unlike the other groups, they are fully supported by the barangay officials and even got promised to provide for the snacks of the children everyday. Their are also youth that they got to minister. They set a schedule in meeting up with them and counselling them. The children and the parents responded openly and was very happy with the efforts of the riders in teaching them.
CIRCUIT 3: Aubrey Diaz and Chrisjane Amora
The ministry went well though they have experienced rejection at first because there are some communities that have not responded due to fear of their safety. They had been able to establish several places nearby. Children are excited and are very cooperative during the classes. Sad to say that there are children that are left behind in their school classes, some are not yet been able to read and right properly. So it is a very great opportunity for the riders to teach those children while they cannot go to school.
CIRCUIT RIDERS 4: Steely June Ramos and Nicole Marie Dumaplin
They got a very good opportunity in establishing the ministry. The barangay Captain immediately responded when they asked permission. The ministry went well and the parents were so supportive to their children. They have been able to start teaching the children with phonetics and proper personal hygiene.
They also have a good opportunity to minister to the youth around the area.