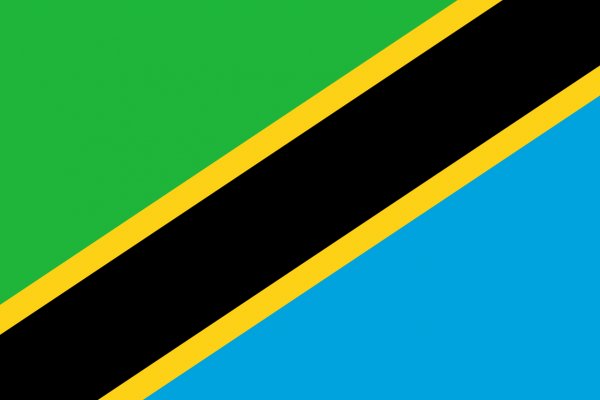 Final Days in Tanzania
We enjoyed a big trip to Ngorongoro Crater! We rode in four safari trucks.
The team made a few stops along the way for souvenir shopping before reaching the campground where we spent the night. The next morning we continued our drive into the crater. Including wildebeest, buffalo, impala, gazelle, elephant, zebra, hippo, crown cranes, ostrich, flamingo, serval, and our highlight… A lioness taking a nap near our trucks on top of a fallen tree! On Wednesday, we journey to Moshe for a souvenir shopping. Let's just say that some of us are better at bartering than others!
Today, We cleared hundreds of rocks in the fields. Later on, the Massai village chairman arrived with a goat which he donated to our team! What an honor! Most of the team also watched, as they slaughtered and butchered the goat. They will be eating it later. We are looking forward to our bonfire tonight with our host missionaries as special guests sharing their testimonies. Miss Gay has s'mores ready for the team… (But they don't know that yet!) We are planning to leave the base tomorrow at about 1 o'clock for the short trip to Kilimanjaro airport to begin our journey to debrief. We will appreciate your prayers for traveling mercies.
We asked each of the team members to share a short farewell…
Hi family! I miss you! During the Safari, I got to see so much of God's beautiful creation. I am glad I got to spend the summer in Tanzania with a great team. I can't wait to see everyone to share what I learned!- Julia
I have learned so much over this trip! I am thankful for the Lord's protection over my team and I pray that our visit made a difference. To God be the Glory. -Ryan
Dear mom, dad, V., and everyone…. We visited the crater and saw giraffes zebras, wildebeest, gazelle, elephant, a lion, flamingos and a little cat. We also had some really good food and went to a buffet. I also got a lot of stuff for my family. The siteseeing was good and I am excited to go home. -Julian
Hi guys it's Bailey! The sightseeing was amazing! I bought a spear. I can't wait to see you guys at home! -Bailey
What's up you guys?! This summer has been absolutely amazing. All the ups and downs we've gone through has brought this team together as a family. The worksite and sightseeing were super fun, but the best part of the summer has been the team and growing in Christ. We'll see y'all soon. - Kate
Hello from Tanzania! The trip has been a blast. Sightseeing to Ngorongoro crater was very beautiful. The best part of the trip is definitely the people, food, and growing together in God. - Issac
The Safari was very fun and eventful. I saw zebras, elephants, giraffes, a lion, springbok, Wildebeests, hyena, warthogs , and many birds. Oh! And a baboon particularly up close… In my seat of the Jeep I was in… Stealing my Texas barbecue Pringles then leaving… but all around a great trip.- Champion
Hi everyone! We went to the crater and saw lots of animals and did some shopping. This trip to Tanzania was a lot of fun and one of the best experiences of my life! - Bizzy
Ayo, it's Andrew #21 on the team… It was fun seeing and doing God's work, and that thing was cool. I enjoyed my team and the fun we had. Bwana asefewe. Amen!!! -Andrew
Has truly been a summer of spiritual growth. I hope our absence has had a similar effect in the lives of the families some of us will be going back to you… Keep praising the Lord!!! -Robbie
Hi everyone, this summer was very cool and inspiring. I'm pretty sure we've all grown together as a team and don't want to leave them. But I hope everyone had a good summer. - Daniel
I had a lot of fun in the last week going through the creator and seeing all the animals. And going souvenir shopping I got some pretty big things that I'm hoping to get back to America. - Klint
Hey mom, dad, Eden, and friends, during this last week, we got to go to the crater and see wildlife. We saw giraffes, zebras, lion, and other animals in the wild. We also got to go souvenir shopping. I have bought lots of gifts and weapons. Overall, this summer flew by and I learned many different things and skills. God has moved through me and my whole team this summer. -Ethan
hi everybody, this past week has flown by and we have become a family that is not ready to separate. Love you family. - Ben
Hi! Sightseeing was a blast! I have had so much fun here. I am sad to leave, but I am looking forward to dBrief and seeing my family and friends. - Lacey
This summer was a blast. I've learned so much, and have grown a lot. We just finished sightseeing, it was crazy fun. I can't wait to see everyone back home. - Jordan
Hi everyone! We went on a safari ride and it was so cool to see God's wonderful creation. Tanzania is a beautiful country and wonderful people. - Naomi
We visited the crater on Tuesday and it was cool to see God's creation. It was so beautiful seeing all the animals at the crater. I can't wait to tell you about it! See you soon! - Leah
The whole trip was a really life changing experience. The past week between the Maasi church, sightseeing, and souvenir shopping was also really fun. - Josiah
One day left until leaving Tanzania. Eight days left until we fly home. It is going to go by very fast. Everyone else, especially Julia is going to cry a lot. It has been a good summer and we have good stories. See you soon - Samara
This summer I have learned a lot. I am so thankful that God put me on this team. I learned that without God I cannot do this by myself. Tanzania definitely has a special place in my heart. The people are so sweet and beautiful. Hi mom and dad ???? -Bea
I will remember this trip my whole life. I have changed and feel different. My faith is being made stronger. It will feel weird going back. I know for sure I am going to miss this place. The last two days were full of new experiences. I have never bought it before itI will remember this trip my whole life. I have changed and feel different. My face is been made stronger. It will feel weird going back. I know for sure I am going to miss this place. The last two days were full of new experiences. I have never barter before but I feel that I did well, and I did not feel good after doing it. We were entertained by some national dancing and some cool acrobatics. The food was very good. I was so thrilled to have coffee, however I reaped what I sowed which was a night of no sleep. The next day we started our safari trip. As we were arriving, it was very foggy but it's soon cleared up. Our best moments were when we saw a lion. We saw all but one of the big five. The Whole trip was really good, we saw lots of animals and an amazing piece of God's creation… I will never forget it. - Noah