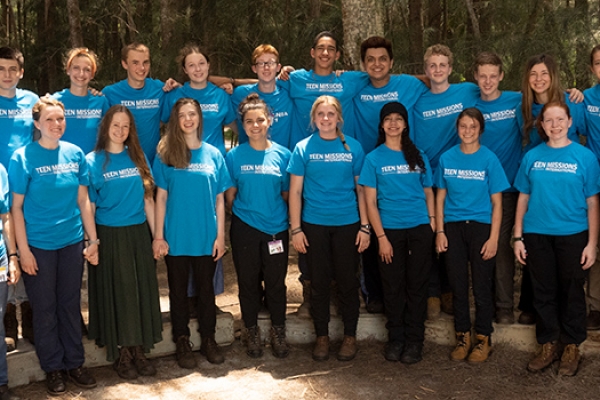 Good afternoon from the Tanzania Team!
Good afternoon from the Tanzania Team (21009). This is Anya Hockenberry, reporting on Monday, July 19th. We are still at the Teen Missions Tanzania base. The weather varies between mild and cloudy with mild temperatures.
Friday's trip to the Ngorongoro Conservation Area was a smashing success. At 5:00am, we split between four tour Jeeps and drove four hours to the crater. Because some team members suffer from motion sickness, we read the Bible aloud for devotions and prayed. We drove up and around the rim, which is 7,000 feet tall. Then, we descended to 1,000 feet and explored the crater, only leaving our vehicles for one bathroom break and lunch. We saw baboons, an elephant, crown cranes, water buffalo, wildebeest, lions, flamingoes, hippos, jackals, a hyena, and LOTS of zebra. Lion King references were frequent. We got back to the base at 9pm; after a dinner provided by the tour company, we went straight to bed.
Saturday was a full day of foot washing; we served three Sunday schools at two locations. All our previous work days had been in afternoon and ended when the sun set; working in direct sun for eight hours was a new experience. Roles switched at the different locations, so everyone got a chance to foot wash and evangelize. We were sent with more toddler and adult shoes than middle sizes and had to send away kids at each location. Moreover, babies and adults with medical issues we couldn't treat fervently asked for help; Ms. Deb and Ellie D did their best to help. By the end of the day, we were quite exhausted but glad to have one full day.
On Sunday, we slept in until 7:30am, went about our normal routine, and went to a Lutheran Church. It was quite a different experience than the Pentecostal Church from last week; less was translated. They sang two songs, introduced themselves, and did a drama. In Africa, for tithe and offering, some people give the literal fruits of their crops; so following service, the worship leader auctioned off a papaya, some eggs, and vegetables. Saba (TMI's Tanzania coordinator) bought us the huge papaya for lunch. That afternoon, we napped, quizzed, and caught up on GGs.
Today, we did no foot washing. Team members caught up on laundry, and we sorted the leftover shoes from the week. Any shoes that aren't given away will be left at the base for Saba, Ethel, and the Saturday School teachers to distribute. We hope to foot wash tomorrow, but it's unsure whether we can gather people for the sizes we have in a day. They're starting to work on their debrief presentation, a compilation of all God did this summer, and studying for quizzing.
Hello mother, father, brother, and sister. My time here in Tanzania has been really fun even though we've been in quarantine for a big part of it. Kilimanjaro. We went on a safari and we were lucky enough to see the only giraffe outside the Ngorongoro Crater. Foot washing has been really fun, and it's really fun hanging out with all the kids." -Simon O.
"Dear family, this summer has been a life changing experience. Our team got to help around base and grow in our faith and as a team. One of the most moving moments I've had ere was going out to for wash for the first time. I washed a little boy's feet. He was about nine. As I took off his shoes, I saw half the skin on his big toe was hanging off. I could tell it was infected and painful. It completely broke my heart because I knew from the size of his foot that we didn't have shoes to fit him. As I cleaned his wounds, I began to pray that God would provide the right size, and He did. My faith in Christ has grown throughout this summer tremendously…I can't wait to come back to Africa again because hanging of with all the kids brings pure joy." -Neylan J.
"Tanzania is great. I've had an awesome time with foot washing, and I like playing soccer with the people here. 'It's not about how hard you can hit, it's about how hard you can get hit and keep moving forward, that's how winning is done.'" -Aric R.
"The animals were cool." -Mr. Josh T. (Assistant Male Leader)