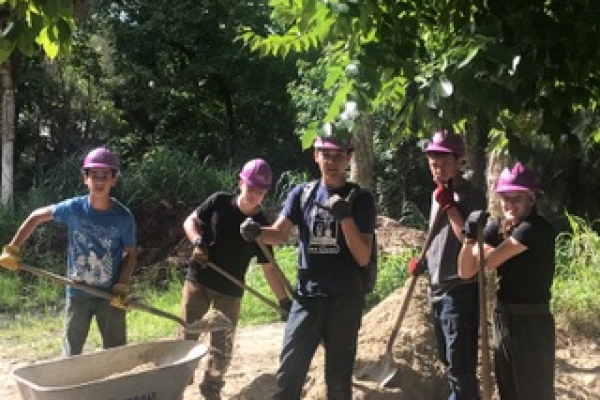 Greetings again from sunny Florida!
Greetings again from sunny Florida!
What a journey our team has been on, and we haven't even left the state! We've been assigned to three other countries, not counting those who signed up for 2020, have had multiple flight changes, and countless other changes in our projects. These kids are continually impressing us with their willingness to work despite the circumstances.
One of the biggest lessons this team is learning is that part of serving the Lord means continual abandonment of the plans we crafted. This understandably comes with it's fair share of questions. The team is digging into those questions together, instead of having to alone. Questions such as "Why would the Lord call us to this work and then close the door to it?," "Why are other teams serving on the field they were assigned?," and questions as simple as "Why us? Why this team?" There is no easy answer to any of these, some questions have no answer at all. However, the Lord is still faithful. The Lord is still working on this base and in these kids hearts. We may never know as a team why our summer has come with so much uncertainty, but we do know that the Lord is certain and stable amidst the chaos.
Our summer is not what any of us or you had envisioned for us. It is what the Lord envisioned, which is the thought that is comforting this team.
Even though it is not what we planned, our team is getting the opportunity to serve current and future missionaries right where they are. The Teen Missions base in Florida is one that serves missionaries worldwide and trains up future missionaries in service of the Lord. We are getting the privilege of serving a base that serves so many others. A lesson the kids are learning is that our service might not always be the way we envisioned or dreamed about. We are pouring out the love of the Lord through our work projects so that this base can continue to pour out the love of the Lord in other ways. We are talking about how even though we're in a first world country, there is still service to be done. Right now, the kids are building a flood wall to help protect the dorms and bathrooms from erosion
. It's not glamorous and it's not necessarily news worthy, but it is needed. It is beneficial. They are doing something that is necessary and helpful, even if it's in new ways. Plus, they get use of showers and laundry which they are very very grateful for - especially considering they never necessarily perfected the art of washing clothes in buckets.
Yesterday, we heard the sonic boom from a rocket launch! Half the kids thought it was the end of the world as we knew it and were ready to jump into the lake. Afterwards they realized how cool it was!!
The MKZF team is in good spirits after getting a sweet group care package! We are so appreciative for how kind and considerate our parents are, through the phone calls with all the changes we have been so happy to see how much you love your kids and support the work they are doing here. They send their love to you!