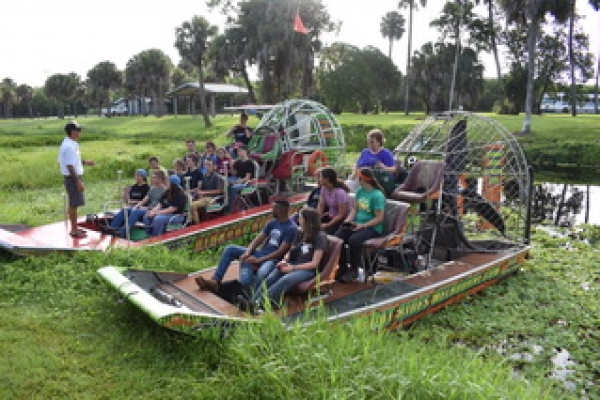 Best Day Ever!!!
Hello Everyone,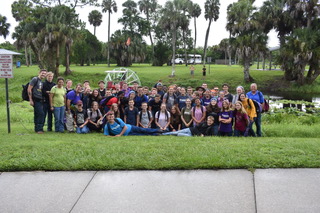 It has been a great couple of days since our last report. The best day was Wednesday, when the team was able to leave Boot Camp for our "Sightseeing" Day. The team was able to go to Melbourne, FL & ride on airboats through the swamps. There were 2 boats & the team was divided into three groups to go out on the airboats for an hour. The team had a blast, saw several alligators, all kinds of birds, & heard huge bullfrogs talking to each other. One of the highlights was the team members waiting on the dock for their turn got sprayed with water as the airboats came in. For lunch that day, the team dined on a variety of American & Foriegn cuisine at a food court at the local mall. As one team member put it, she loved dining at "the Lord's fast food place" aka Chick-fil-a. We ended our "Sightseeing" by going shopping/souvenir shopping at Target.
The team is working very hard. So hard, that the jobs we are given for the day are finished in the morning & the team has the afternoon off to relax, take a nap or swim in the pool.
KP on the 12th was James A., Ellie O., Adaya S., Adam U. & Lauren W. The 13th was volunteer Rachel K., Jacob Q., Rio M., Geli R., & Robbie M. The 14th was Abby W., Thomas M., Zion H., & Ethan D. The 15th was Garrison T., Hannah C., Lavender C., Chloe R., & Aiden M.
Team Devos were led by James A. & Benjamin L. on the 12th; Dainel R. & Deitrich M. on the 13th; Sarah O. on the 14th; Matthew T. & Aislynn M. on the 15th.
I only had time to interview three team members for this report, so next report will have extra. My question was, What had God shown you while on the Dream Team?
James A. - I have learned to be grateful for what I have.
Adam U. - The plans that I make may happen or they may not. God always chooses the path for me to follow even if it doesn't go according to the plans I have made.
Hannah C. - I have learned to trust in God & not on the plans I have made. Things may not go the way I want, but God is in control, always.
Here are a couple of pics from our boat trip.
God Bless & Keep on praying,
Kim Marshall (backup lady leader)