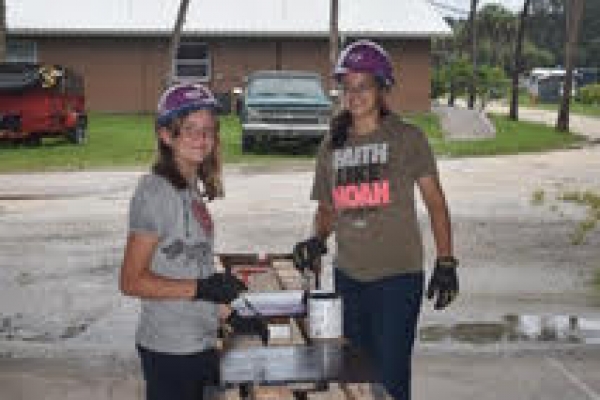 Dream Team, Working Hard & Going Strong
Dream Team, Working Hard & Going Strong
Hello Everyone,
The Dream Team is doing well. We have been blessed & enjoyed cooler weather these past few days with tropical storm Elsa. It rained off & on yesterday morning & raining this afternoon. We still manage to be able to work both days. The team is making progress on small projects around boot camp. Some of the projects are cleaning out old storage areas & either taking the "treasures" that are found to the trash or cleaning them up for use in the future. The team help tear down the old visitors' shack & carry that off. The team has also been painting hand made chalk boards that will be sent to the TMI base in Uganda in the near future.
Personal devos in the evening were led by Hannah C. on the 6th, Lavender C. on the 7th & Benjamin J. on the 8th. We had our 2nd Bible Quiz practice on Tuesday afternoon & the team showed improvement. Everyone had a chance to say a verse.
Another job for the team members to do each day is KP (Kitchen Patrol). 5 team members help in the kitchen with various jobs. Everyone has had one chance to work on KP & we are starting round #2. Wednesday the KP crew was Rachel K., Jacob Q., Rio M., Aislynn M., & Geli R. Thursday with KP crew was Andrew L., Sarah O., Luke W., Faith C., & Liam H.
So still asking the question/questions - What has God shown you while serving on this team or what blessing have you recieve? Here are the team member replies:
Sadie P. - Don't make plans or expect much in life without making sure you talk to God first about His plans.
Spencer J. - No matter what the hardship, we need to always follow God's plan.
Ellie L. - God has been showing me a lot of things in my personal devos & team devos. I'm enjoying what He is teaching me.
Benjamin L. - God has shown me that what I don't expect to turn out as a good thing, can become a good thing. I didn't think staying here would be a good thing, but God has shown me different. It is a very good thing.
Guess that is all for this report.
God Bless & keep the prayers coming.
PS - pictures of team members painting chalkboards