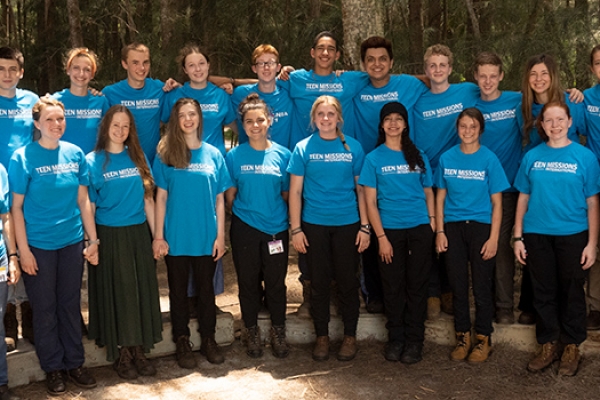 Greetings from Tanzania!
Greetings from Tanzania! This is Anya Hockenberry. We are at the Teen Mission base in a rural area outside the city Moshi. This team report is from July 1st, 2021.
The travel lasted three days total. On Sunday, June 27th at 10am, the team boarded a Teen Missions bus and rode to Orlando International Airport. They ate pizza, snacks from Commissioning, and organized luggage (thank you to all the parents who sent food!). We flew to Chicago at 5pm and spent the night at O'Hare International Airport. In the morning, we rechecked baggage and boarded the 14-hour flight to Ethiopia and shortly transferred on a flight to Zanzibar (an island off the coast of Tanzania then to Kilimanjaro International Airport. During flights, the team had wordless bracelets on their wrists and were scattered on the flights. Ellia M gave a bracelet to a small Hispanic boy during security, and Josh H shared the Scriptures with a Mormon man on the plane. Hudson H had motion sickness on our second flight; after throwing up in a barf bag, he felt fine. Team members around him made sure he had water, a fan, and encouragement.
We arrived in Tanzania, completed Visa paperwork and security, and boarded buses to the base. Saba and Ethel, the base coordinators in Tanzania, arranged a bus, pickup truck, and van. Ms. Deb prepared ravioli and mixed vegetables, and we all went to sleep.
The next morning, the team had a meeting with Saba, and he instructed us on some customs and guidelines for Tanzanian life. We got the news that we had to quarantine for some time and started preparing for on-base work. Neylan and Allison jumped on KP duty for lunch and dinner, and the rest of the team organized their belongings and our missions gear. They spent some time with the Bible Missionary & Work Training (BMW) students. The base is beautiful - at midday, Ellie D spotted Mount Kilimanjaro above the clouds, and Abigail, one of our team photographers, rushed to capture. Nathan E is still wearing an arm sling for his dislocated shoulder, but that didn't stop him from learning the ukulele.
Today, despite quarantine, the team started working. After bucket laundry, they cut tall grasses and picked up trash around the base. We had our first Bible class today, studying Galatians; we talked about the Gospel and distortions of it. Mia O brought up of points regarding absurdities in them and how to combat them.
Our goal this week is to do whatever work Saba has for us; the team is willing to be manpower needed to maintain such a large base. The footwashing schedule is in place but cannot begin until the quarantine expires. All TMI policies are being upheld. Please pray that all team members learn patience as they stay on the base. God bless!
"Hi. We got to Tanzania safe. It's really cool here. I was trying to find the mountain, but I could only see the hill in the distance. Then I looked up, and it was literally above the clouds. Other than getting sick, I love it here." -Hudson H.
"Tanzania is beautiful. It is very cool. The people here are nice." -Sadie H.