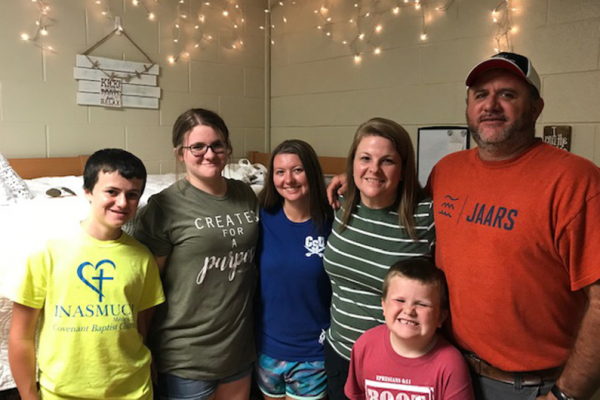 Brant and Mary Lane, married in 2001, began sensing God's calling into full-time ministry after rededicating their lives to the Lord in 2007.
They were first introduced to Teen Missions in 2003, when Steve and Gay Petersen visited their church in Turbeville, South Carolina. A couple of months later, Brant went with the church youth group to volunteer during Spring break at Teen Missions International (TMI). This was the beginning of many more opportunities of volunteering and serving over the years before they answered the call into full-time ministry.
In October 2016, Brant and Mary accepted the invitation to serve full-time with Wycliffe Bible Translators with their assignment being at JAARS in Waxhaw, NC. While serving at JAARS, Brant was the Director of Land Transportation, where they trained missionaries on how to drive 4-wheel-drive vehicles off-road, vehicle recovery, motorcycle driving skills and basic maintenance on both. Mary had the opportunity to do some writing for the online blog at JAARS and also serve with the JAARS ministry, Refuge 139, in Papua New Guinea and Mexico.
While serving with Wycliffe Bible Translators, Brant and Mary continued to volunteer at TMI when they were able. During the summer of 2021, they felt the Lord was beginning to lead them in a different direction, so they began praying about where that would be. After much prayer and discussion with their children and a few close friends, they accepted the call to serve full-time with TMI.
Brant and Mary have four children: Annabelle, Allison, Jonathan and Jesse. Their oldest, Annabelle, is currently in college at Charleston Southern University in South Carolina. Allison (9th grade), Jonathan (7th grade) and Jesse (1st grade) are homeschooled by Mary. Although this is a big change for their family, they desire to be where the Lord directs them, because there is no safer and better place to be than in the Lord's Will.
Anniversary: June 2, 2001
Birthdays: Brant May 6
Mary — March 22

Annabelle — August 26

Allison

—

July 18

Jonathan — November 21

Jesse —September 10