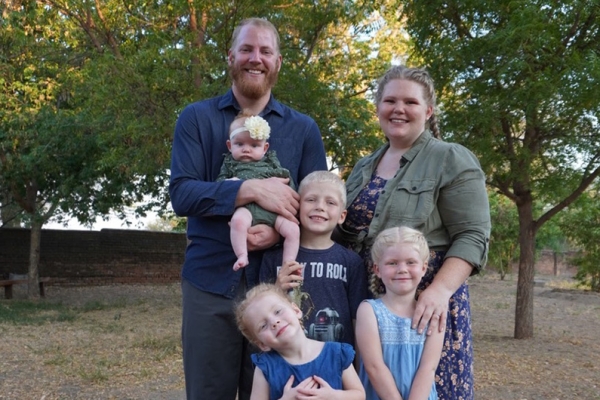 Seth is the fourth of 12 children in his family and grew up in upstate New York on a dairy farm. Growing up he knew that God wanted him to be involved in advancing the Gospel. When he was 15 he went on his first mission trip with Teen Missions. After that summer he knew God wanted him to attend the Teen Missions BIBLE, MISSIONARY and WORK (BMW) Training Center.
Emily is fourth of 10 children in her family and grew up in northern Minnesota. She also had a heart for missions from a very young age. She came on her first mission trip with Teen Missions in 2010 and came to the BMW the same year that Seth did.
They got married on October 6, 2012. After that they spent 9 months in Malawi, Africa doing their internship with Teen Missions and joined staff shortly after that. They are blessed to have a son, James Lincoln, and two daughters Lauren Noel, and Emma Grace. They now are serving as staff with Teen Missions in Malawi at the base in Chipoka. Seth is the country coordinator and Emily does all she can to help with the Teen Missions office and take care of the kids and make where they live the best home for everyone.
Birthdays
Seth – December 11
Emily – August 16
James – September 19
Lauren – June 2
Emma – October 24
Sadie – August 30

Anniversary
Prayer Requests
Spiritual growth
Health and safety
Wisdom to raise James, Lauren and Emma
A passion for the lost
Strength for each day
My eager expectation and hope is that I will not be ashamed about anything, but that now as always, with all boldness, Christ will be highly honored in my body, whether by life or by death. Philippians 1:20