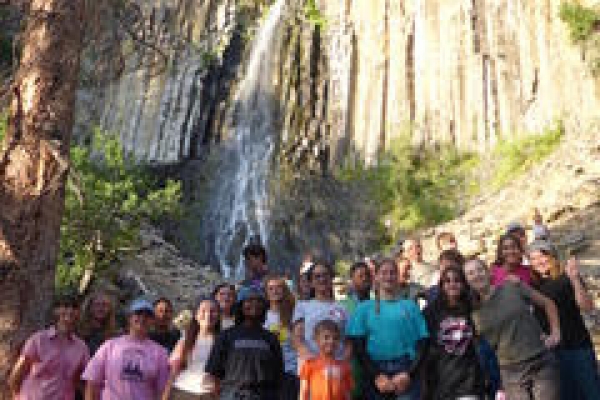 Fourth of July Fun!
Good Afternoon!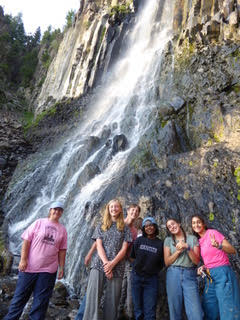 It is a chilly day here in Montana! Ít is 63 degrees with a touch of rain. This past holiday weekend has been filled with many activities. Saturday afternoon the team was able to practice for our very first presentation, unfortunately we were unable to perform with the originally planned church. After we finished working Saturday we were able to take a beautiful half mile hike to the
Palisades Falls. The pathway up to the waterfall was a paved road mostly uphill with beautiful scenery on every side. When we got to the waterfall the team enjoyed climbing up the rock face to better see the beautiful creation that the Lord made.
Due to the fact that we were unable to present on Sunday we held church with the team at our base. We spent Sunday afternoon reviewing our verses. Over the last three weeks the team has memorized 21 verses. Sunday we went over all 21 verses with them. This is done in a quizzing form, where the leaders give a keyword or a reference, and the team member must say the verse word perfectly. Due to the fact that there are 24 team members this can take the better part of two or more hours. As we progress over the summer the team members will become quicker as they are reviewing all of the verses they have previously learned.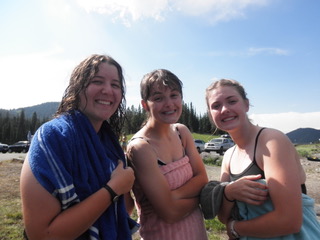 After verse review the team was able to go to the nearby lake for some fourth of July fun! Due to the fact that the water is from the mountains and there is still a great deal of visible snow on the peaks of the mountains, the water was absolutely freezing! Everyone got into the water, but some were able to brave out the cold temperatures longer than others. After an hour of swimming the team was able to head back to the Bible college for Quizzing.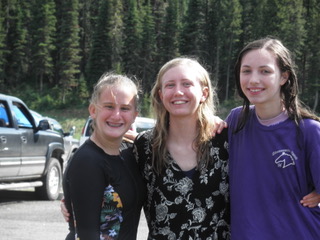 Team Quizzing is a very large part of Debrief in Florida. Each team member will have the opportunity to quiz when we return to Florida so it is important to get a head start while on the field. Quizzing is much like review, where a team member is given a key word, or reference to a verse. The difference between quizzing and review is that quizzing is timed, and a competition. Each of the kids must be sitting with their feet on the ground, and when they hear the key word or phrase given they must jump up and say the verse word perfectly, while only being allotted 30 seconds. If a team member is able to say three verses word perfect, they quiz out and someone else takes their place. This week Albert and Sophia were able to quiz out.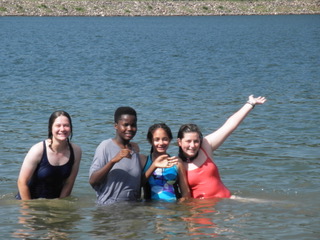 The team has been enjoying their time in Montana. Here are a few updates from this past weekend.
"My project has been going well, I have been painting a dorm and it is looking great! I have helped to trim bushes and shrubs around the campus. I also redid weed barriers underneath ( said shrubs and bushes). We are on schedule with every project!" - Nevaeh
"Montana is awesome and so beautiful, we are surrounded by beautiful mountains. I've been painting dorms with some of the girls on my team. I have made friends with the team pretty fast. I had KP ( Kitchen Patrol) with Nevaeh, it was fun! I love working here with the team" - Ahna
"It was surprisingly hot when we got to Montana. We drove to the nearby Bible College while having a nice view of the mountains. The first working day was not what we expected. We had to shovel rocks up, place a weed mat down, and place rocks back on top of the weed mat. I have now gotten used to the work and the heat. On Saturday we practiced our Team Presentation, unfortunately we were unable to go to Church Sunday." - Elijah
"Today I have KP, it is very fun. It's a lil' bit cold but not bad! I'm having fun. We went to the lake on the 4th of July. It was very cold, but so fun! :) " - Mykah