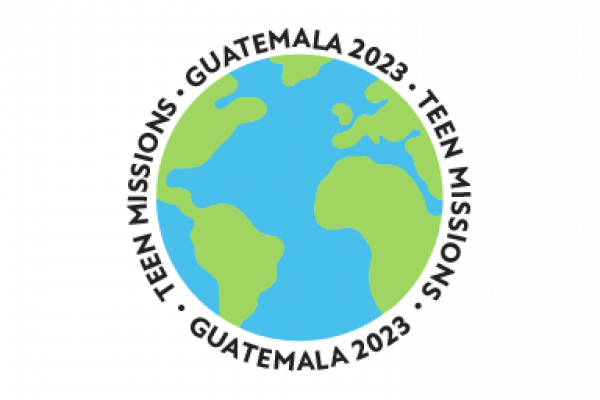 Hello everyone!
We are having an awesome time here in Guatemala serving the Lord. On Tuesday and Thursday, we held a Bible club here at the school that we are staying at. Each of the two days, we had the opportunity to host about nine children and expose them to the ministry that occurs here. Yesterday, we showed them a film about Gladys Aylward, made a craft about the fruits of the spirit, learned Psalm 119:11 in Spanish, and did music and drama. In addition, the preteens very much enjoyed getting to act out the story of Jonah and use puppets to retell the Parable of the Lost Son to the kids.
In the last couple days, we have made significant progress on the work project. Originally, the entirety of the house that we are staying in had plain white walls. Now, we are nearly done repainting the walls using green, grey and blue. The host missionaries have been very thankful for the team's efforts thus far. Nearly every day they tell us how excited the kids at the school are to see the changes the team has been working on. Even though they are preteens and are not always the best at keeping paint off themselves and the floor, they have cleaned up for themselves well. Furthermore, Sarah, one of the directors of the school here, remarked that the preteens had been doing an even better job than they would have gotten if the labor had been hired.
Tomorrow, we intend to go souvenir shopping at the local market. On Sunday, we are planning on presenting at a church in the area. They have requested that we do the entire service, including music, puppets, drama, and the sermon, which will likely be done by Matt, the host missionary.
Please be praying for continued safety, spiritual growth, progress on the work project, and bonding between the team members.
Thank you for entrusting us with the privilege of leading your children this summer. It has been a pleasure thus far and we continue to look forward to all that the Lord will do this summer.
Team member testimonies:
Whenever the cashier talks to me in Spanish, I'm like 'whaaaat?' and we both laugh. – Grace S.
We are having a great time, the food is good, and we have a washing machine and a shower and we got to go to the tienda and got snacks. – Caleb L.
While I was at the airport, I fell asleep standing up. Adrian F.