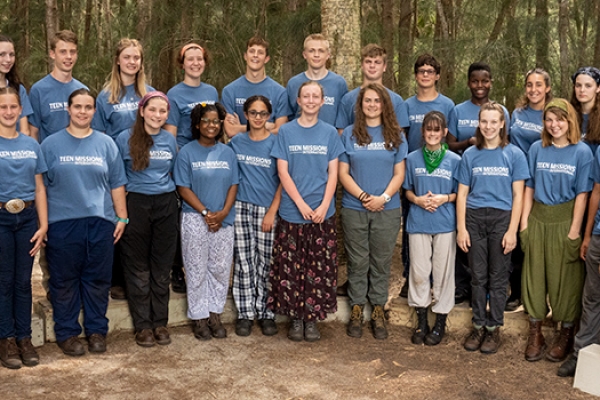 High Mountains, High Spirits
The Montana team is adjusting to the drastic climate and elevation change. As we are coming into the end of our first week, the team is experiencing dry heat with 30% humidity and an elevation of 4,820 feet above sea level . This is a gigantic change from the very high humidity levels experienced, at bootcamp, and the elevation level of 3 feet. Even though this has proven to be a challenge for some of the kids they are pulling through, and showing us that they are truly dedicated workers.
Now that we are on the field we have started some of our field classes.
The girls have started a devotional Bible study called "Defined: Who God Says You are". This book explores the identity of young Christian women through the Biblical lens. I am excited to say that many of the ladies are digging into the study, and are enjoying the conversations and thought provoking questions. The boys are working through a book called "Checkpoints: A Tactical Guide to Manhood". The gentlemen are looking at what true masculinity is through the life of Christ. They have been really enjoying this study led by Mr. Chico and Mr. Zac, they have been asking some questions. As the summer progresses we are praying that we will see our young adults progress in their relationship with the Lord, and be able to ground their identities in what the Word of God says.
Every night we have group devotions led by a team member. So far Kayla and Madison have shared with us their life verses. I have loved to be able to see these two young ladies open up and share something so close to their hearts with the whole group. It takes a great deal of courage to be so open! Group devotions is a critical time for the team as it allows the team members to share their testimonies and show how God has been active in their lives. We close the night by singing praises to the Lord. It is not hard to praise the Lord when we are in such a beautiful location.
What has the team been doing? I'll let you hear it first hand.
I've had two full days so far in Montana, and I love it here! It is a really beautiful state. The girls room is comfortable and we have real mattresses! The food is really good too. There are a couple different projects we're working on at the college: painting dorms and making the outside look nice by weeding and trimming back bushes. I'm excited to see what else our team gets done this summer!" - Ellie
"Hi. I Got to Montana and have been here for three days. On the first day I helped move rocks and placed weeding mats. The second day I helped trim bushes, and today I have been serving on KP ( Kitchen Patrol) and helping in the kitchen. Montana's sky is really blue! " - Matthew
"Bushes trimmed. Walls painted. Rocks placed and food served" - Tobias
"Beautiful mountains in every direction, clear big sky and nice weather- that's Montana! Today I'm helping out in the kitchen, but for the past few days I have been working with rocks, painting and car detailing at Love Inc. I'm excited to see what God has in store for us in the next four weeks!" -Kateryna T.