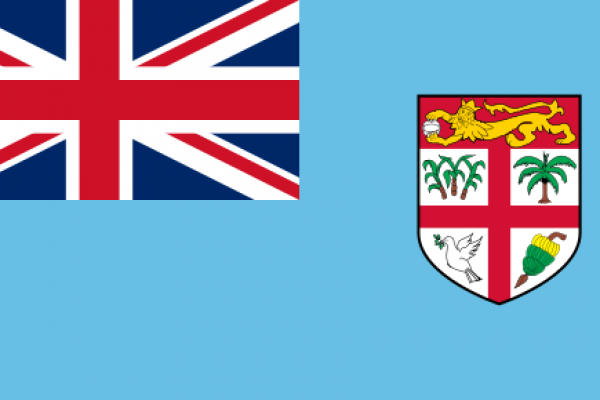 Work is well underway here in Fiji!
The trench for our fence footer is completely dug and leveled. Now we are cutting rebar and steel tying to create the "bones" for our concrete. We got the first section of concrete poured yesterday. The team is very thankful for their Boot Camp training that gave them the skills and knowledge to be able to complete this work project. We are starting to cut lumber to create special forms in certain parts of the trench for the concrete. The team is tackling all the different jobs well. They started a little competition to see which group of them could mix concrete by hand the fastest. Some of the team who love to paint are dedicated to completing the painting of beds and walls in one of the dorms. They still have a while to go with painting the beds, but they are determined. Probably a little tired of seeing the same green color all day though.
Our missionary here, Mrs. S. treated us all to fresh coconuts for a work break the other day. They were full of yummy coconut water and then we split them open to eat the coconut flesh. It was a refreshing treat!

We had part of our sight seeing today and went to the Sleeping Giant Zipline. We ziplined through the beautiful forests of the Sleeping Giant mountain range. Some of the kids were brave and did tricks like the dead man and going upside down. We enjoyed a local treat of fish and chips for lunch and then hiked to a waterfall to swim. The beauty of Fiji continues to amaze us. Our God is a talented and creative artist. We feel privileged to get to experience this corner of His creation. We wrapped up the day at a grocery store to replenish snacks and then a trip to McDonalds for supper. The team has really been enjoying our transportation to get around. It's two vans and they blast music. The kids try to sing along and head bob.
We have started through the list of team members to share in evening team devotions. So far, they have been doing a great job sharing the Word with us and how God has been working in their lives. There has been a lot of spiritual growth and maturing all throughout the team that is evident to us leaders.
From the team:
Matthias B.- I have had a great time here. The work is fun, and life is a little more relaxed then boot camp. Fiji is a beautiful place. I am excited to see what God will do in the last two weeks we have here. Love, and blessings, Matthias
Peyton B.-
Hi mom and dad I'm having a great time yesterday we went on a zip line we are having fun love you