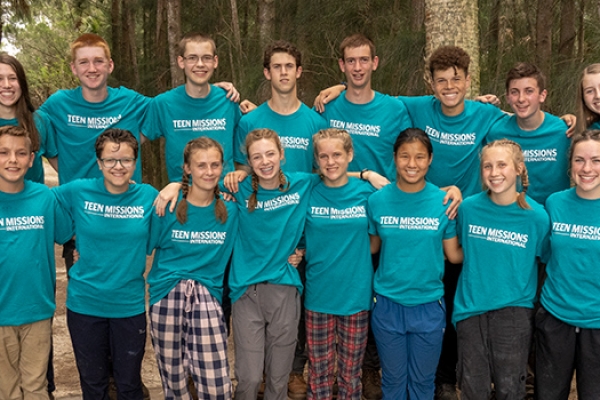 A Fun Filled Weekend
Date: 07/19/21
Field report number 6
Written by: Maddi Metzler
The ban on large groups is still in effect here in South Africa and our team has been itching to get out and evangelize. We have completely finished painting the guest house, as well as two staff homes. We are about 75% of the way finished painting the dorm buildings and totally finished re-screening, re-framing, and painting the windows of the brick room on the side of the guest house. The property here is transforming before our eyes! One of the staff members here, who we call Mr. B, came to talk to our team while we were eating supper the other night to thank us for all that we are doing. He said that when he steps out of his room every day and sees us working, he feels like crying because of the impact we are leaving. He encouraged us that though we may not feel like we are doing much or though we may think we aren't really helping, we are truly changing the atmosphere around here. He is excited to have people come to the base once the quarantine is lifted to see the difference. He thinks the transformed property will invite more and more to come and hear the Gospel. That was so good to hear and it really boosted our spirits.
Another boost to our spirits was that on Saturday, our team walked in separate small groups (so as to not appear as a large group) through the mall! We spent a few hours exploring and shopping! We also ate at the food court in the mall, which was the highlight of most everyone's day. Half of the team got yummy looking milkshakes! A good number of team members bought matching hoodies, and most simply enjoyed the change of scenery and walking around.
On Sunday, we took our turn doing our presentation. The team did very well! Mr. Robert, the coordinator of the base here, said it reminded him so much of when he was a team member. Though practicing our presentation may not have always been fun, we could tell that the team was really enjoying themselves when it came time to actually perform for the staff and students here. We ended our day with a walk outside the compound and roasting hot dogs around a fire. Donovan T. and Brady M. sharpened a bunch of sticks for us to be able to cook our supper. Some of the team members, like Caleb H. and Halee C. tried roasting an apple on their stick as well. They said it tasted like apple pie!
Today, our goal is to keep painting until we've completed all painting projects. We ordered supplies for the roof and wall today, so we hope to soon finish those projects as well! We want to accomplish as much as we can in our remaining two weeks here!
From the team:
Caroline J.- Our progress with the painting is really turning out nice. I have enjoyed cutting off chicken heads and playing with the children in my free time. The sunsets are beautiful here and the morning are a bit chilly. We rebuilt a wall and it is sturdier than ever. We will be repairing the roof we took down in the next few days. I miss my friends and family but will miss South Africa too!
Brady M.
- the mall was so fun and we got a bunch of food and Candy and it was nice to get out and see more of South Africa and painting is growing on us so it is not as bad