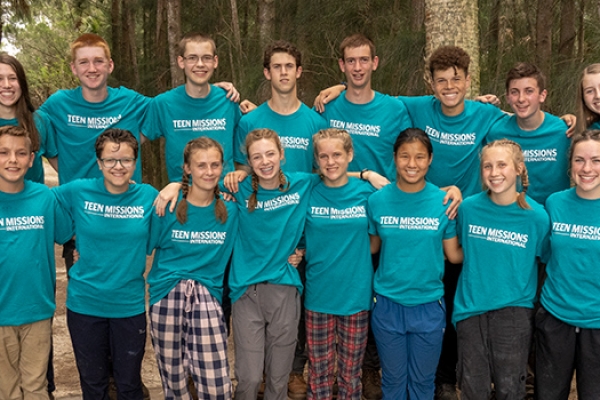 The Roof is on!
Stories from South Africa 2
Friday morning, our team stopped painting and began replacing the roof we took off the first week we were here. Each team member took a turn screwing in the metal sheets. They worked hard and finished the entire roof project in one day! They were so excited to get to do something different and to try out new construction skills.
On Saturday, it was back to painting. We are almost finished with all of the painting projects, just adding touch ups and scraping windows. In the afternoon, we practiced a brand new presentation so that we wouldn't perform the same thing twice for the staff and students on the base.
Sunday was a beautiful and relaxing day. Our team did well on their presentation and our team member Brady M. gave a powerful sermon on anger. He did a fantastic job. We also practiced quizzing on Sunday and are looking forward to the competition we will have in debrief soon! We have several really good quizzers. Sunday night, the staff and students performed traditional dances for us and served a wonderful national meal. Part of the meal was cow liver and intestines. Seth D. ate 3 livers and Caleb H. went back for seconds on cow intestine! Not all of the team members were as enthusiastic about those two dishes, though.
Today, we are back to painting and will be visiting a market in the afternoon. We received the amazing news that the president has opened up South Africa again! That means we have plans to do some of the Sunday School circuits around the base the next few days. We are very excited to evangelize to the communities around us and interact with the locals!
From the team:
Kate C.- Being able to come to South Africa has been such a blessing and opportunity. Although we haven't been able to get out and do much evangelism, working here at the base has shown me and everyone else that we can serve right where we are. We were able to go to a local market and barter for some handmade African goods. I love spending as much time with the team as I can to soak up the last few days we have together in South Africa.
Donovan T.- Having a great time here in South Africa, excited to go evangelize amongst the Nationals. Getting ready to go to the market and souvenir shop for my supporters. Time is going by too fast and we will be home. Definitely gonna miss this place and all the people here and the friends we have made along the way. Peace.