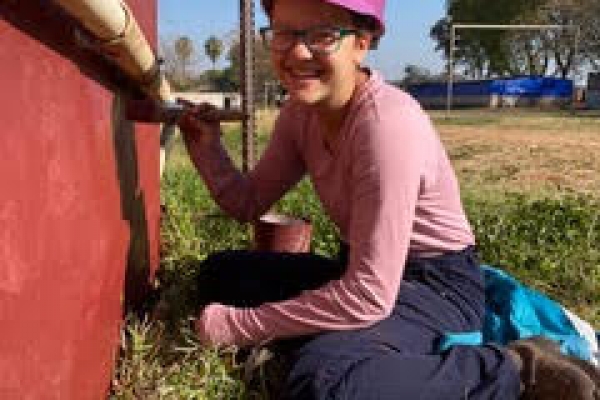 A taste of freedom
Stories from South Africa 2:
A taste of freedom
07/08/21
Written by Maddi Metzler
Painting, painting, and more painting! Whether it's a small brush painting the cracks between bricks, or the roller covering a large space on a wall, our team has been diligently painting day after day. Caroline J. says that she is sure she will be a professional painter by the end of the summer. We have completed 2 buildings on the base, just adding some finishing touches, and we started 2 more buildings this week. The property is really starting to look good with all of the fresh paint. A few team members have gotten the adventure of getting on a roof to reach the hard to reach places with a paintbrush. The wall that we are fixing is prepped with new re-bar and braced with plywood awaiting to be filled with fresh concrete. Megan K. and Faith P. have done most of the prep work for the wall and they are very proud of themselves.
On Tuesday, we had our first taste of freedom. We loaded up the TMI bus and went into a little store down the road in groups of 3-4 people. Everyone loaded up their baskets with snacks like Coke, chips, chocolate, etc. One of their favorite purchases is the "billtong," a kind of beef jerky. The snack purchases and trip out of the base was a great boost for everyone's spirits. That night, though, was hard to get everyone settled by 9pm because of all of the sugar!
The weather continues to be very cold for most of the day and we think we just may be beginning to miss the heat of Boot Camp, lol. I served hot chocolate during Bible study the other night to help warm us up and it was a big hit. The kids have also been enjoying sipping hot tea by a fire every morning at 8am while a Bible Student or staff member gives a short chapel service before work. We are continuing to faithfully pray that on Sunday we have some evangelism opportunities.
From the team:
Faith P.-
Good morning from South Africa!
This past week I've enjoyed using the skills we learned at Boot Camp, such as steel tying, carpentry, etc., to repair two walls in one of the main buildings here on the base. God has really been showing me the power of working together as a team, and encouraging one another to be joyful even when we feel discouraged. A special shout-out to my beautiful mother who has a birthday coming up! Happy birthday mom, I love you! Don't worry dad, I didn't forget about you, I love you too ;)
Till next time!
Caleb H.-
We have now been in South Africa for a week. I have really enjoyed it so far. We have done a lot of painting. I have especially enjoyed playing with the kids that live here on the base. Seeing God work in my life and the people around me has been really cool. I'm excited for the rest of the trip and coming home to share how my summer went with you!