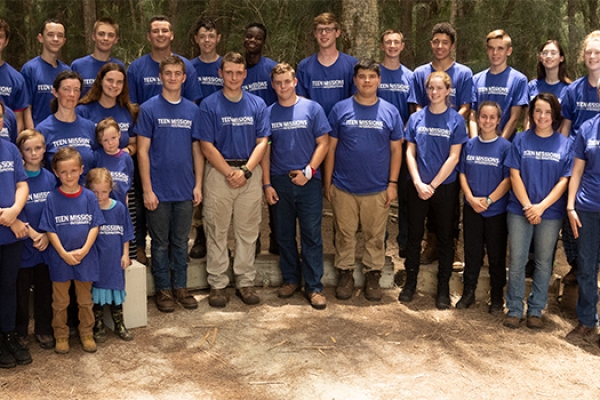 All is well here in Puerto Cayo!
Dear family and friends,
All is well here in Puerto Cayo! Materials for the foundation of a kitchen arrived yesterday and today the kids began leveling the ground to prepare for the project. Savy was busy cutting the rebar while Ethan C. bent the metal into shape under the careful eye of the foreman. The kitchen patrol was hard at work, with Alethea and Caleb cooking up a great lunch of beef stew, rice, and apples. Chocolate chip cookies are on the horizon for dinner. The ice cream vendor made his daily run today, when he showed up one could probably hear the kids cheering from a mile away. Today's special was coconut, a big hit. Teenagers from the local youth group came yesterday to help the kids with the work, and Ronan wasted no time organizing a fun soccer game with the Ecuadorians after work. The female leaders took a grocery shopping trip to Manta, with an extra list of requests for necessities like Oreos, Doritos, and an interesting choice of peanut butter and jelly by Michael. Fresh fruit, such as apples, pineapples, and bananas from the vendors were also greatly appreciated. Soccer games with the host missionary and his sons have also been a great morale booster as everyone has enjoyed their company. At night, the boys and girls split up into their own Bible studies where so many great conversations are held. Afterwards, there is a little snack of popcorn or cookies and then evening devotions are held. Cayden shared a touching devotion last night and Mr. Mike did a wonderful job of leading worship as we all enjoyed singing good old classics as well as contemporary hits. The kids have befriended two dogs, the first named Cujo by Levi and the second Frankie Stewart III. Josh Landon has been making the most of his time and has been blessing the group with his guitar skills. Joshua Cagasan has been very diligent in taking pictures to share with you all upon our return. There are exciting opportunities for work and evangelism both this week and the next that everyone is looking forward to. God bless!
Saludos,
Victoria and Taryn
A few words from the kids
I´m so grateful to be here in Ecuador. During this time, I´ve been able to grow closer to my teammates, God, and the people of Ecuador. I´m so excited to see the new work and relationships God has planned for the rest of the summer. -Alethea C.
Ecuador is such an amazing place. I am grateful that the Lord has led me here this summer as He is teaching me to go with the flow and to become more patient. -Josiah C.
Ecuador is awesome! It has taught me a lot and my time with Teen Missions has made me a stronger Christian. Hey mom and dad, how's it going? P.S. Nellie, Mr. Tim says hi. -Ronan A.
My time in Ecuador has taught me so much already. Although playing soccer in boots is tough, it has been fun getting to know the kids in the youth group. Hello family, miss y´all! P.S. Mr. Tim misses you. -Jordan H.
This trip has taught me a lot, physically and spiritually. I´ve learned how to work as a team and tolerate not having coffee in the morning. Although I do miss everyone back home, I´m thankful everyday that God has placed me here with this team. P.S. Nellie, Mr. Tim sends his love. -Mary P.