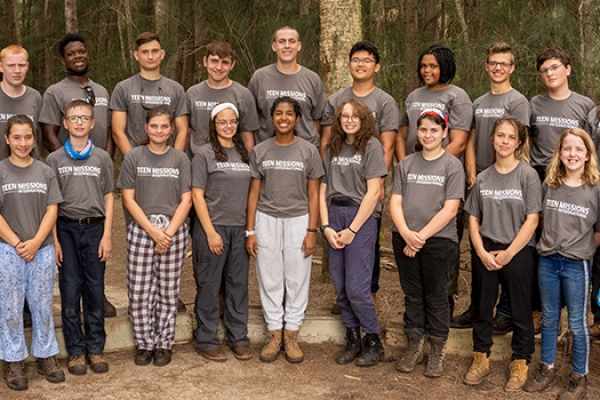 Beating the Heat
Beating the Heat
It was a restful weekend for the team these past few days. We were able to work at Love Inc, helping them run a garage sale in their parking lot on Thursday and Friday. The kids loved working with the wonderful staff and volunteers, as well as meeting many locals throughout the sale. It was a warm weekend, so we spent Saturday resting indoors, practicing our music, dramas, and puppets. All of the kids completed their verse reviews with all 40 of their summer memory verses! There was much relief, knowing that there were no more verses to learn before quizzing begins at debrief. They've been requesting to do verse quizzing for fun, and we spent some of our free time doing just that! They are having so much fun competing with one another in friendly quizzes as they learn God's word. On Sunday, the team was able to go hiking at a nearby nature preserve and see some of the natural beauty of the Snake River. We were also excited to celebrate Timothy's birthday on Sunday! Miss Lori couldn't help but continue the family tradition of making birthday aebleskivers for breakfast! The team sang to him in four different languages as he blew out the candles on the chocolate mayonnaise cake that he requested (which is waaay better than it sounds! You should look it up!). They have all enjoyed coming home at the end of the day to escape the warm, sunny, Idaho weather with showers and air conditioning! This week, we plan on working with Love Inc on some outdoor projects in the cool of the morning, and then helping out at Caldwell First Baptist Church in the afternoons. Please continue to pray for good health and strength for the team! They all say they will miss Idaho, but are ready to see their families shortly! Pray that we will finish strong and continue to be used by God to bless the community!
Here are some of their answers when asked "What is your favorite part of the summer?"
Rebekah G. "My favorite part of the summer was bootcamp. And also working at the Warm Lake camp and visiting MAF. But bootcamp was my absolute favorite so far."
Bea E. "Hello people, my favorite part of this summer has been growing closer to God and learning to be flexible with what God has in plan for us. I also loved doing devos every morning and starting the day good. I also loved doing God's work here in Idaho. This summer has taught me so much, that I can't wait to come back next year. I also really loved sharing God's love with so many people. May God bless you."
Isaac B. "Flying on the plane to Boise and being at Warm Lake camp."
Abraham C. "Seeing new things in Idaho and learning many new things. And going home."
Hannah I. "My favorite part of the summer has probably been the ministries we've been a part of and the amount of work we've been able to accomplish for the church. I've loved to see my teammates grow in their relationship with the Lord and the impact we have had on the people around us."
Shelbi K. "My favorite part of the summer was being able to grow closer to the people in the community while getting to know them, while also learning about God and really getting to know the amazing people on my team."
Collin O. "My favorite part was the airport food and the sleep. And I really like the quizzing and the teaching."