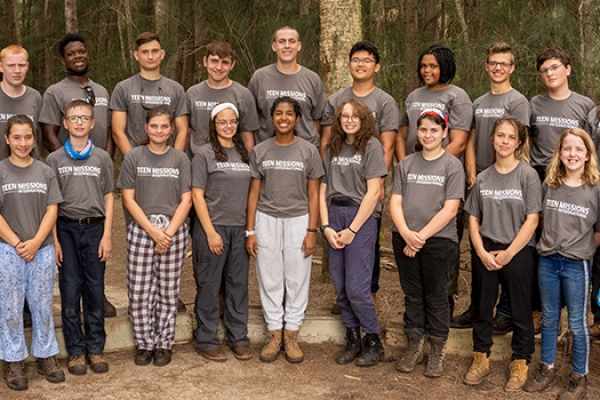 From the Heights to the Depths
From the Heights to the Depths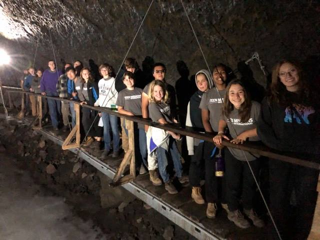 It's been an exciting week here in Idaho!
This week, the team was able to experience many unexpected but wonderful things. With plans changing in regards to working with Mission Aviation Fellowship this week, we were able to do a sightseeing day on Tuesday. We loaded up on the bus early in the morning to drive to Shoshone Falls, near Twin Falls, Idaho. These water falls are taller than Niagra Falls! The kids loved taking photos with each other in front of the breathtaking view from the top of the falls. We were able to have a picnic lunch in a park nearby, and do our devotions with the sound of the roaring falls in the background. After lunch and devotions, we climbed back on the bus and journeyed to Shoshone Ice Caves nearby.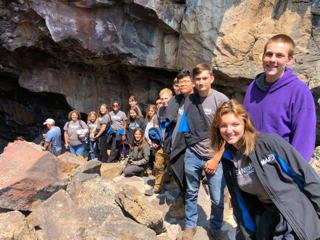 We went from the heights of the falls into the depths below, experiencing a 60+ degree drop in temperature! The interior of the cave was 28 degrees. The kids loved the cool air in the cave and learned a lot about the unique rock formations and air channels that keeps the cave cold enough to freeze over. After the caves, we visited Chick-fil-A for dinner before returning to Caldwell for team devotions. We had yet another guest speaker- a couple from the church that are Bible translators with Wycliffe in Papua New Guinea. Once again, the team was able to ask many good questions about being missionaries, and what it's like to take God's word overseas.
On Wednesday, we got straight back to work with Caldwell First Baptist church. We helped with some cleaning of the exterior of the church building, retouching paint, and completing some landscaping projects.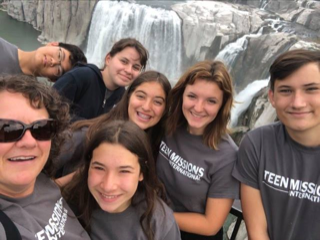 We were also able to bless one of the church congregants and finish some yard work at his property. He and his wife blessed our team as well and provided fresh watermelon to go with the rest of our picnic lunch on the worksite! For our evening devotions, we were able to attend the youth group program at First Baptist Church in Caldwell. The team enjoyed being able to see and reconnect with many of the kids they'd met at Warm Lake Camp.
Today, we are beginning work with Love Inc in the nearby town of Nampa, ID. Please continue to keep the team in your prayers as we seek to bless the community and finish strong in this last week and a half of work. God has been faithfully opening doors in our ministry, and we look forward to telling you all the amazing stories of what He's done! Thank you for your prayers!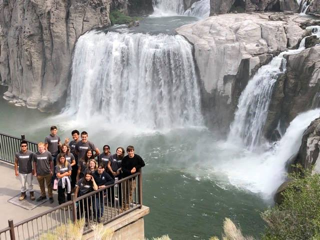 Trace H. "Idaho has treated us great! Due to my Covid experience, I lost weight and reacquired my abs! I love the work we are doing here, but I am also looking forward to returning home. See you soon!"
Nicole C. "The Lord has continued to protect us from the devil. I am really glad that the Lord has let me meet such people filled with love and silliness! I hope soon to receive letters from my parents...sightseeing was so much fun yesterday and we got to see many new things. Can't wait to go home and relax."
Caitlyn O. "Yesterday was our sightseeing day. We went to the falls and an ice cave which was interesting. Also, tomorrow we start at Love Inc."
Bridget H. "We have safely returned from camp and are now back in civilization. We have been jumping from job to job for the past few days, and also sightseeing. Hopefully tomorrow we will begin work at Love Inc. I am really excited to see what the rest of the trip brings."
Sam K. "We are safely settled into a rental house and into civilization. Got to do several jobs and have gone sightseeing. Fun stuff! Going to work at Love Inc tomorrow. Can't wait to starting working and help!"
Timothy S. "Our time at MAF was fun. We were able to see Nate Saint's plane frame."
Alayna N. "We have gone sightseeing at ice caves and a waterfall. We went to MAF and we saw a lot of cool planes. We pulled weeds today, but tomorrow we work with Love Inc. Love and miss y'all! Alayna"