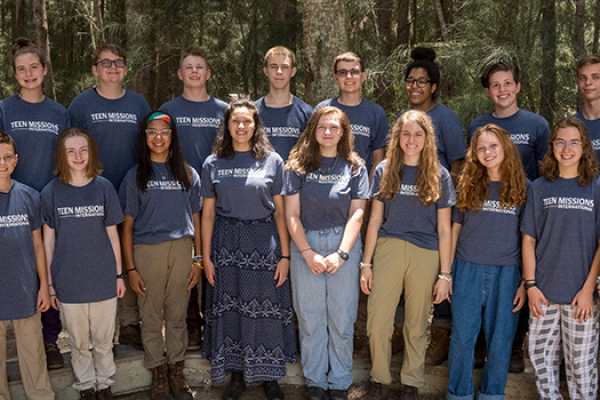 Greetings from the South Africa team.
Greetings from the South Africa team. We have had a busy few days and we are excited to share them with you! We were able to go to a game reserve which is about 30 minutes away. There are 22,000 hectares in the Dinokeng Game Reserve. We stayed overnight at the Mongena Lodge. They have cute huts with showers and heaters! We left Thursday afternoon and arrived about 2:30 PM. We got settled into our rooms then we proceeded to the entrance where we met our two guides and loaded into our open safari vehicles for our 3:30 PM safari. We headed into the reserve looking for animals. Of course, we were wanting to see the "Big Five" (rhino, elephant, lion, water buffalo, and cheetah), but seeing any animals would be exciting. We had a three-hour ride on Mongena's land (which is about 9,000 hectares). We returned to the lodge and enjoyed an wonderful meal of steak, chicken or pasta, beautifully plated by the chefs. Luke led devotions for us that night, then we went straight to our huts. We really enjoyed the nice soft beds and showers. After a nice breakfast the next morning, we headed out for the 9:30 safari. It was pretty cool and cloudy so we didn't see many animals. During the safari, the guides stop and try to locate the animals. They also have a snack of sodas and nuts, dried fruit and jerky for us. It was a lot of fun. Over the course of both safaris, we saw zebras, impala, wart hogs, gnu, kudus, wildabeasts, rhinos, monkeys bush babies, owls and many other birds and deer. Our oasis away ended with a wonderful lunch by the lake. We left about 2 PM and stopped at a few small craft places to buy some souvenirs. We hope to have one more opportunity before we leave to get some more items for our families and supporters later next week.
We were able to help the students in the garden. They sometimes give out this food to the needy, so we went one day to help them give it out. There was one man who lives under a tree and people come to feed him and talk with him. The tree is his home. We think of him on these cold nights. We were also able to do balloons for the kids and give out wordless books and bracelets.
We had a full day of work today since we had been gone away for a time. Touchups are being made to most of the buildings that are done so far. We hope to get working on the other dorms and office before we go. The chapel, Yoders' house, dorms where we are staying in and the big house are all painted. We closed our evening with Naomi doing devotions by the fire, after we enjoyed s'mores first! We are looking forward to the Lord's Day tomorrow to refresh us for our final week.
Speaking of next week, it is our last week here in South Africa. The time has gone by quickly, but we are ready to get back to Debrief and home. We have a busy week. Monday we will be serving dinner for the staff and students, Tuesday we will have the missionary family share with us about their family and their vision here for the ministry. Wednesday we will be having our team banquet, Thursday we go to town for our Covid tests and do some shopping. Friday we will return to town for the results of our tests and pack up. Saturday we will finish packing, and head to the airport.
We are thankful for all that the Lord has been doing here in our lives and in the ministry we have been able to do for the base. The buildings are looking really nice and will be a great improvement for the conference center here. The conference center helps to raise money for the base.
Once again, the electricity has gone out so we will send this as soon as we can.
Thanks for your prayers.
South Africa team