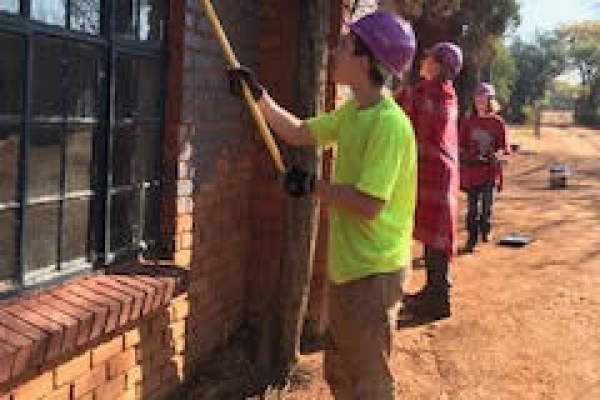 Web Report: South Africa
What a fun week we have had between painting the buildings and spending time with the staff and students. The buildings continue to really look really nice. First we have to wash and scrap the bricks and any chipped paint off the walls. We are painting them burgundy and grey. Nothing like a new coat of paint to make things look new!
We had a real cultural experience the other day. The staff and students bought 10 live chickens to dress and freeze for the month. We were able to help in the process; some a little more than others! Once they were killed, they were dipped in hot water to loosen the feathers, then they were cleaned, inside and out. This will normally last the school about a month. that night, they prepared a national meal for us. It included bbq chicken done on the "brie" (grill), "pop" which is their porridge, beet root, corn porridge (like homeny), sausage, relish and a corn/bean salad. It all was pretty good. The delicacies to them are the heads and the feet. Most everyone tried them, though that wasn't your favorite. Some of the staff also did a presentation with cultural dance and we hope to learn some for our presentation. We were thankful for their hospitality and plan to make a meal for them before we leave.
We haven't been able to get out much, but the team did enjoy a trip to the mall to get a few things; hats, warmer sweaters and of course, snacks! We also took a walk outside of the property, to the local shop and were able to minister to the shop owner. We are praying for his salvation.
The ladies have a sewing ministry here so they have been making bags, shirts, and dresses that the team has picked out in colorful cloth. They also have made different beaded jewelry which we have been able to purchase.
Everyone on the team has had a chance to do evening devotions. It has been nice to hear their testimonies and learn more about each other. Then we spend time in prayer together. We know the Lord has handpicked this team to be here this summer. Thanks for your prayers.