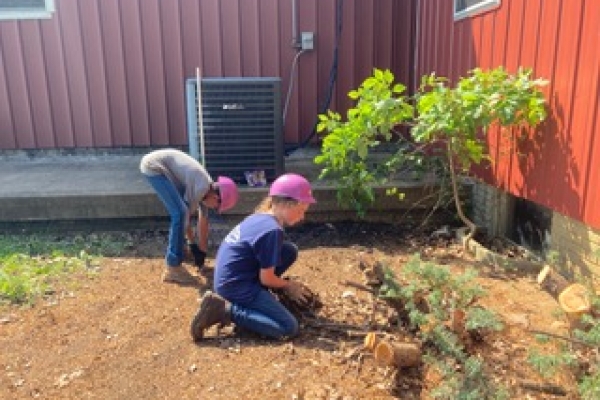 Hello family and friends of the Iowa Preteen team!
Hello family and friends of the Iowa Preteen team!
The team is doing well. The kids have been very hard at work. They have been clearing trees, raking, weeding, and even cleaning up the pond. The work is hard, and tiring, but the kids are staying the course and getting the job done.
The team had a very fun weekend. They were able to play in the gym, and go swimming in the pool. Many of the kids worked diligently on memory verses. We're very proud of them, as they got caught up.
The 4th of July was a day of fun fellowship and fireworks! The team did church here at the camp (our missionary spoke, and Mr. Samuel lead worship). Afterwards they had a tasty meal of grilled pork chops, potato salad and fruit salad.
In the evening we were able to go see fireworks. The kids really enjoyed this! We were blessed with a great spot for watching them. What was really fun was that multiple people in the area were shooting off large fireworks. Whichever direction you looked there was something exploding! It was pretty amazing!
Overall the team has had a good first week. The kids seem to be feeling a little tired of the hard work. But the leaders are coming alongside them and encouraging them, that serving the Lord can be tiring, but He is ultimately worthy.
Thank you for your prayers and letters. They are a huge encouragement to the kids!
Here's some quotes from the kids about the past few days:
Grace H: It's been fun. There are lots of cool animals and rocks to look at. It's also been nice to spend more time reading my Bible.
Abby C: The work has been hard. But God has been teaching us to be diligent and work together as a team. I've also been growing and learning during my devotions time.
Jayden C: It's been fun so far. Working hard and getting a lot of work done. I also feel like I'm getting to know God better through reading the Bible.
In Christ,
The Iowa Team