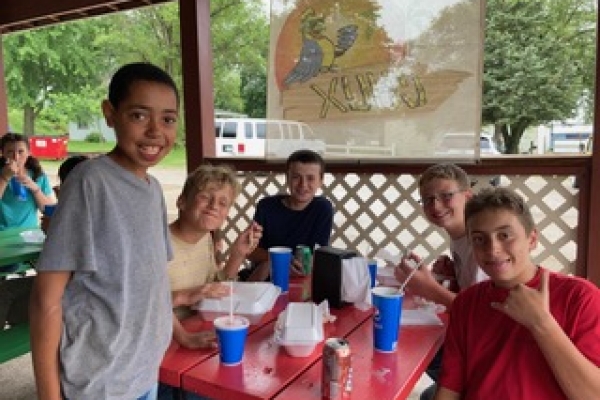 Hello friends and family of the Iowa team!
Hello friends and family of the Iowa team!
Week #2 of project time is finished! The team has made it to the final week of time in Iowa. What a blessing this time has been!
The team has been working hard on clearing paths behind the lake. The kids have been working incredibly hard. It takes a crew to cut down all the brush, and another crew to haul it to the dump zone. The team has been very faithful in this project. They even made it into a game to help the work go quicker.
The team had another fun weekend. We were able to attend a local church and do a presentation. The kids did so well at singing and performing their drama! They really put their whole heart into it, and it was blessing to all the people watching.
The kids got to ride down the Camp's zip line! That was an absolute highlight as they've been looking forward to doing it the whole time they've been here. They also got to play in the game room and gym. Sunday evening they had fun time playing soccer and basketball. They also got to go to a local ice cream shop and enjoy the frozen yumminess.
Several nights ago we had a very large storm that did a number on the volleyball court the kids have been working on. The rain washed away a bunch of the sand the kids worked so hard to shovel over there. Despite this set back, the kids have kept a good attitude.
We talked last night about staying faithful until the end. We encouraged them that we don't want to miss what God has for us in this last week. We want to be centered on Him and His work all the way through the finish line.
Please be praying with us that God's Spirit would continue do His work in and through the team. We're excited for what He has for us coming up, and we just want to keep serving and growing closer to Him.
Here's some quotes from the kids:
Jonathon L: I've enjoyed the work in the lake pulling up cat tails, and the brush clearing along the lake.
Abby F: Hanging out with my team has been fun. I got to work on fixing the water slide, and that was pretty fun.
Carter R: Jesus has helped us with everything we need here at the camp. I've really enjoyed the satisfaction of finishing up the hard work.
In Christ,
The Iowa Team