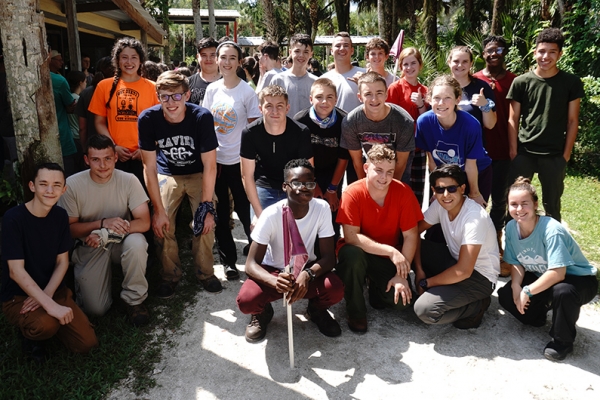 Hello from the Lord's Boot Camp!!!
Hello from the Lord's Boot Camp!!!
It is now day three at Boot Camp and things are well underway. The team members have all arrived safely and have settled into life here in Florida. On arrival day, all the kids were excited to meet one another and as soon as their team members would arrive in the Big Top, they would play games with each other to get to know one another. There have been a few storms the last couple of days, but it makes the evenings cooler and so far all of the team members have reported that their tents are still nice and dry (Praise the Lord!).
Ecuador had their first day of Kitchen Patrol on Sunday and the kids served the other teams at meal time. Another exciting thing that happened on Orientation Day was the first run of the Obstacle Course and all the team members did a great job! They demonstrated good unity by encouraging one another and communicating with each throughout the course. Out of 21 team members, 14 were able to make it over the last obstacle (a 12 ft wall) on the first day. Today (Monday) we started our first full day of training, attending classes and learning what we need to know in order to prepare for our ministry in Ecuador. Please continue to pray for safety, encouragement and unity for these 21 team members, five leaders and six (six!) leader kids during our Boot Camp training.
Here are a few words from some team members.
"I've been having a great time! There's always something to do"
-Cayden
"Hey!! So far everything is going really well. I really like my team and leaders"
-Lane C
"Wassup? I've been having a GREAT time! Love it!
-Kaleb C
"I feel like I have already learned A LOT in these first two days"
-Sammy S
" It is HOT! Really hot! But it is SUPER fun (especially the Obstacle Course)"
-Ethan C.