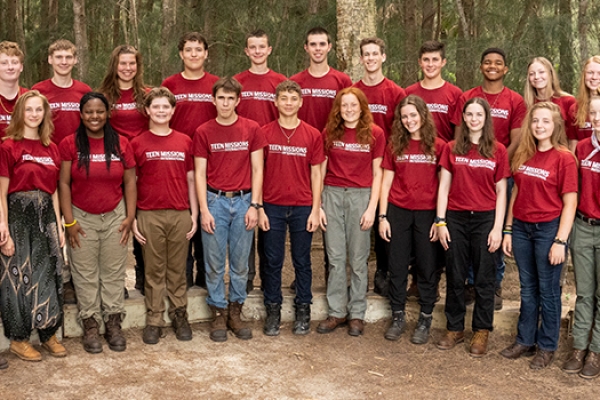 Nearing the Finish Line
Nearing the Finish Line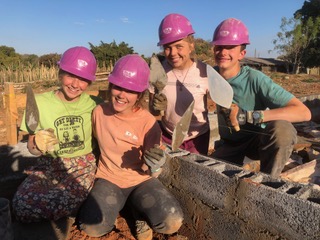 After an amazing sightseeing trip we are back at the Teen Missions base in Ndola. We dropped the nine Leader Development team members of our group and leader Peter in Lusaka for their flight to Debrief. It took some getting used to having a smaller team, and we had to fix our count off :-).
On Monday we celebrated Christmas in July, even though it was a day late because we were traveling on July 25. Each of the team members and leaders got a small Christmas stocking filled with candy. We had chicken and dressing, mashed potatoes, sweet potato casserole, green bean casserole and peanut butter blossom cookies for dessert.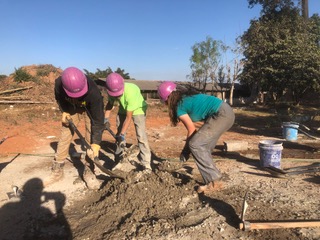 The team has now started back hard at work to prepare for pouring the concrete floor tomorrow, the Lord willing. The block laying on the foundation is finished. We have filled in the inside of the building up to grade and have added 6 inches of "laterite" for compacting.
We plan to have a long day pouring concrete tomorrow together with Zambia staff.

We will appreciate your prayers as we begin to make preparations for our own departure early Sunday morning.
We will plan to send one more report on Friday before we leave.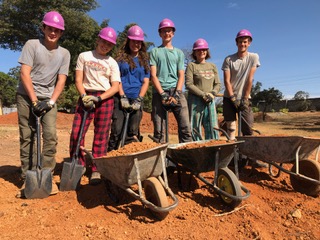 There is some news from the team members!
"Although team bonding has had its ups and downs, my experience has been breathtaking. I have matured greatly mentally and spiritually. Construction is hard, but knowing it's for God you work harder." Matthew M.
"This last week and Zambia is going well! We just finished the foundation of the building! Debrief can't come any sooner and I can't wait to see my family and friends soon! Love you, mom, dad and Trin! I'll be seeing you soon!" Franchesca M.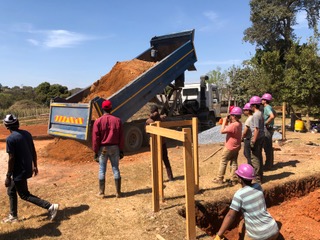 "Zambia has been awesome. I've been getting closer to the team through the long work days. We've got a lot done, we are actually getting to pour the floor on one building. It's awesome, and my team is great." Aubrey A.
"We just finished the foundation of the first building, I'm excited for debrief and I can't wait to make a few more memories before I leave." Albie M.
"Over the past week, we've been working extra hard on the worksite to try and get our project as far as possible. It was hard to say goodbye to LDT because we all became like a little family. Although, it was nice to spend our last few days together experiencing God's amazing creation at Vic Falls and spending time with the children in the village. Right now we are working on the laterite of building number one and we hope to see the concrete floor going tomorrow. It's been amazing to spend time playing sports with the nationals here at the Ndola base and play with the kids. It's going to be hard to say goodbye on Sunday! It was such a blessing to hear the LDT made it to debrief safely. Also sup little sis I miss you and love you Audrey." Lydia W.
"The last week has been very hectic, we've lost our LDT teammates on Sunday but we've been on top of our building project, the Christmas in July was a new experience for me and I enjoyed it. We've been having bonfires through the summer and we will be having two more before the summers over I miss the LDT but I'm glad we got to hang out and have fun at Vic Falls KP is an experience I've gotten used to. The food has been a blessing, and it's very filling for the hard work we've been doing. It's Wednesday, July 27, we leave on Sunday, August 1 for a flight back to the states. I love you mom and dad, I miss you guys, can't wait to tell you all about my trip. It's Derick BTW." Derick L.
" over the last few weeks, many things have happened. I progress on the work site has been constantly further with our leaders guidance. We hope to fully pour the floor of our first building, having finished the foundation. We hope to finish preparing the second foundation. But time and manpower are the largest issue with that goal. Those of us here are working hard even though it was difficult to get back to work. Partially because the LDT left. We are blessed to see the falls as a team, and are glad LDT made it to debrief safely. Thursday, July 29, we should be pouring the floor for our building. We are very excited for debrief, but I know you'll miss the base. I fell asleep memories, and projects have brought us together here. We became a family no one really expected LDT join us unexpectedly, now that they are gone we realize just how much of a blessing they are. We're very blessed as a team. I'm looking forward to seeing what God has in store these last few days." Isaac W.
"Zambia has been a very cool experience for me. We have spent our time building a building. Sightseeing was very fun. All in all a great experience." Jonathan S.