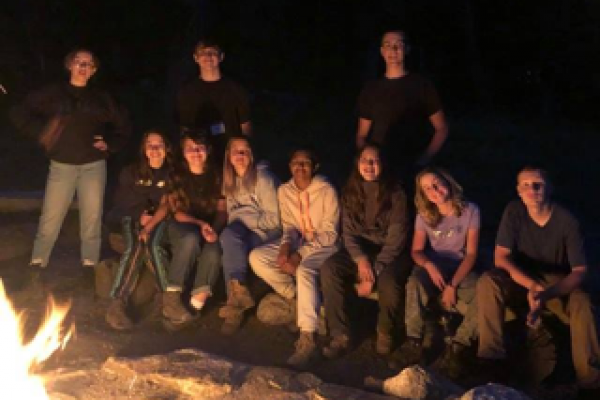 One more week at Camp
One more week at Camp
Wow! It is hard to believe that we have been on the field at Warm Lake Camp for two weeks already. Thursday we had a long work day after our day off of rafting. As we have been sharing during the campers Mission Hour, we are trying to show different aspects of Teen Missions that we use on the field. Thursday we did a puppet presentation, a drama, and a testimony from Eugene and Shelbi K. during mission hour, and Friday we did a singing presentation sharing the Swahili worship song "Yesu ni wangu" and a testimony from Hannah I. Friday we moved forward on our cabin work. We are taping, mudding, texturing and painting. Friday night we were able to join the High School campers at their campfire for smores and visit with them before they left on Saturday. Saturday we worked for a half day finishing the first boys cabin and getting a girls cabin prepped. The campers left at about 10:30. After lunch, one of the men who had brought his boat up to the lake invited our kids to go tubing. The photo attached at the lake is the group who went tubing. They had a blast!!! The rest of us enjoyed the beach, swimming, the rope swing, and working on memory verse reviews. Sunday was a day of rest. We slept in, had a nice brunch and church service at camp. We studied Colossians chapter 3. The youth pastor who leads is such a gifted speaker that explains things in a way that spoke to our hearts. The kids finished up their verse reviews and after lunch we did our second week of verse quizzing. Your kids enjoy this activity, and many ask us to "quiz" them during the week while they are working. What a blessing to see them hiding God's word in their hearts. We then took a half hour of F.O.B (Flat on Bunk) time, so that the kids could journal, read, or take a nap. Many of them took a nap and thoroughly enjoyed the extra sleep! After that, we took a small group to the lake to enjoy the sunshine before the campers for this week arrived. The rest of the team stayed at the camp to continue napping. Once our time at the lake was done, we prepared to greet the campers and practiced "Because we Want to be Loved," the drama that is quickly becoming a camp favorite! We enjoyed having dinner with the middle school campers once they arrived, and after performing our drama for them, we had our evening devotions and got to have lights out an hour early to prepare for the week of work and evangelism that lies ahead! Please continue to be praying that God will strengthen our team as we finish up projects during our last week here at camp. We've been blessed with such a hard-working crew that has a heart for the work as well as the campers we have opportunities to witness to! They are being used by God for many things here in Idaho, and we can't wait to see what doors open up in our last three weeks of ministry.
Rebekah G. "Hello! Today we are working on verse reviews. I have learned a lot the last few days. I also learned something amazing, when we go to MAF, we are going to see NATE SAINT'S PLANE! I didn't know that!!!! Papi would love to see it and I will take lots of pictures to show everyone. Yesterday we went tubing on the lake. That was super fun. On Wednesday we went white water rafting and I sat on the front but didn't fall off! I and two other girls have been mudding a cabin this week, and removing a bunch of weeds everywhere. I love and miss you!"
Bea E. "Hello people, We are in Idaho and we only have one more week at the camp. We went white water rafting, and that was really fun. After the camp we are going to MAF, and going to see Nate Saint's plane. Idaho is really pretty. -Your favorite person ever, Bea."
Isaac B. "Last week was fun, we went white water rafting and started making the 'bear' cabin nice by mudding and texturizing it."
Abraham C. "We went to the lake and went tubing. Lots of manual labor with no pay and lots of homework."
Hannah I. "To my family, I miss you guys so much and I can't wait to see you all when I get home. We've been working a lot around the camp and we're all very tired, but getting to know the campers and doing fun activities with them has been a blessing. Can't wait to hear from you guys! I love you! Love, Hannah."
Shelbi K. "The Keelins, I seriously hope that y'all are seeing these. Um, last week was fun cause we went white water rafting and we went tubing yesterday which is kinda scary, not gonna lie. I miss you guys so much. I love you guys, keep writing me, and if possible, send pictures! -Love, Shelbi."
Collin O.
"Um, it's been the same. A lot of fire suppression and we are mudding the dorms. I miss my bed. -Collin."